Give the gift of TEAM LOVE this holiday season!
Need to give a personal, meaningful gift this holiday season? Give the gift of TEAM LOVE!
TEAM LOVE—our community of recurring donors—is the absolute heart of our work. Together Rising could not exist without them. Their steadfast support enables us to respond quickly when crises arise. Most recently, TEAM LOVE made it possible for us to invest:
$50,000 in Queer Asterisk for vital support for LGBTQ+ Coloradans in the horrific aftermath of the Colorado Springs shooting
$50,000 in Holler Health Justice, our queer and Black-led partner making abortion care safer and more accessible for the most marginalized communities in Appalachia
$113,000 in the Center for Human Rights in Iran, an Irani-led organization that is so deeply embedded that Iranians on the ground trust them to amplify their voices and stories
There is so much heartbreak in this world. Together Rising is where to turn to transform heartbreak into action. For as little as $5 a month, you can give your people the incredible gift of knowing that they are showing up for families, children, and communities in crisis. For both recurring gifts and one-time donations, a printable gift certificate can be downloaded via a link at the bottom of your receipt email.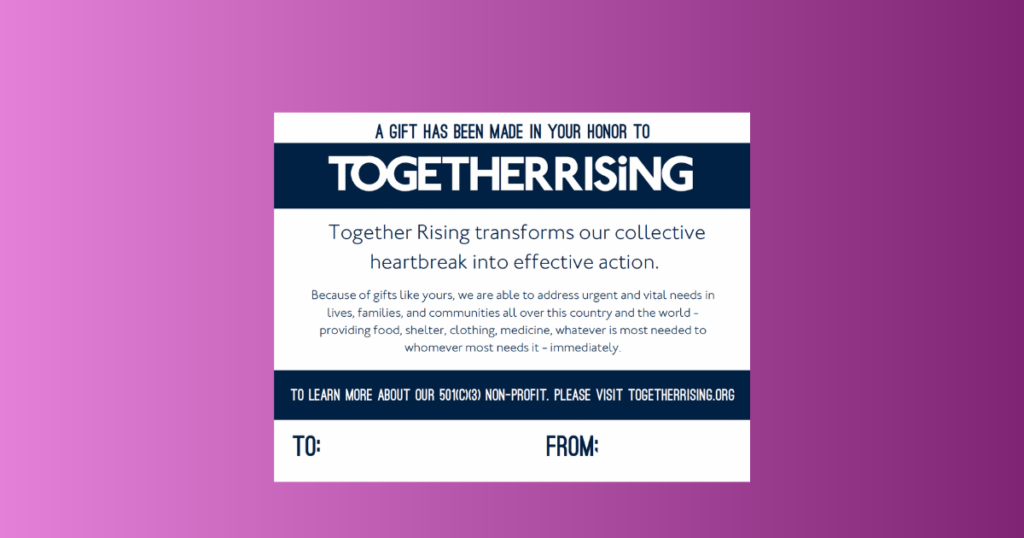 Go to TogetherRising.org/Give to gift TEAM LOVE.
To our current members of TEAM LOVE, thank you! We are so deeply grateful for each and every one of you!