WHAT WE'RE ABOUT
Together Rising offers support and assistance to people who have no where else to turn. As we give and receive we become connected to one other– understanding that sometimes people just need a little bit of help during difficult seasons of life. One of the most beautiful things about Together Rising is the remarkable number of recipients who turn around and become givers, adding their gifts to our community so that others may rise as well.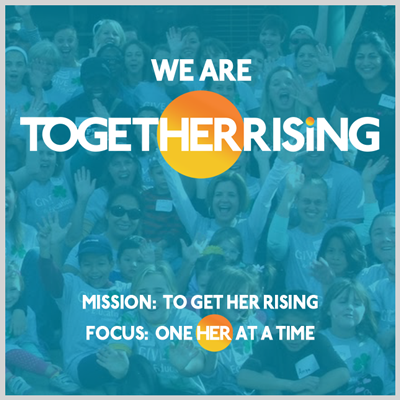 Together Rising receives requests for help every day from individuals with needs great and small. Your donations go directly to help families in crisis. Often all people need is a little help…  gas money to get to the hospital, groceries to put food on the table, or shoes for kids who don't stop growing during difficult times.
Together Rising Gives Big:
But We Also Care Deeply About Giving Small.
Requests for help fill our inbox every day, and your board and a team of volunteers work tirelessly behind the scenes to meet as many needs as possible.  Below are just a few examples of the small things with great love that your donations have been used for in 2014.
$100 gift cards for 50 single moms for Valentine's Day.
School supplies for 150 families in need.
Funds to a single mom of 2 boys who lost her 35 year-old husband to leukemia/lymphoma.
Money for a military veteran single mama who lost her job and has struggled to find steady work. She was diagnosed with bladder cancer and was on the verge of being homeless.
Funding for a group of 8th grade Girl Scouts so that they could make fleece blankets and hygiene kits for a local domestic violence center.
Funds to the family of a little boy born with severe heart disease called Tetrology of Fallot with pulmonary atresia. He has had several surgeries and his father lost his job as a result of missing work for all of the travel.
Money to a family who is struggling to make ends meet after the father sustained an injury and the mother has been unable to find a job. We sent them money to help them pay for a necessary car repair and their electric bill. We sent toys for their daughter's birthday and a gift card for clothes.
Money to help with travel costs for cancer treatment to a single mom with stage 4 inflammatory cancer, who is fighting to stay alive and raise her 5 year-old daughter.
Funds to a mom in desperate need of providing clothes for her kids.
During the past three years Together Rising has raised over $4 million to help people in need, connected thousands of individuals & sponsored hundreds of families through our Holiday Hands outreach, and renovated two special needs schools through a collaborative giving program with Microsoft.
HOW WE STARTED
Together Rising started with a website called Momastery. Glennon Doyle Melton began to write, opening up her real life and self online, and telling her truth recklessly. And her readers responded.  A whole community of women began to tell their truth and work hard to understand one another. People who were very different, but who had the common goal of understanding and loving each other better.
Quite unexpectedly, they felt so deeply connected it filled them up. And once they filled up, they began to spill out and overflow. So they reached out to a couple of hurting women who needed help.
What they found was that helping these women further healed their own broken hearts. And they began to see and understand that giving is as much for the giver as it is for the receiver. When they added up all of their little offerings of time, money, and talent, together they could make amazing things happen.  Things they never could have done alone.  This created a deep sense of belonging to one another.
Together Rising is the natural outpouring generated by these women's small efforts. It's a helping, healing revolution.
THE TOGETHER RISING VETTING PROCESS
We take our role as stewards of our donors' financial contributions very seriously. The Board has created a comprehensive vetting system that allows us to research each request to determine the veracity of need. We ask each individual to list details of their situation, and the Board follows up to ensure accuracy. We ask that individuals submit references of people who are able to vouch for their struggles and situation, so that we may be able to better understand the financial need. Additionally, we ask individuals who request assistance to let us know what other avenues they have tried to pursue financial assistance. We want to make sure that we are selecting individuals and families that are not receiving gifts from multiple organizations for the same need. Finally, the Together Rising Board and volunteers spend hours reviewing each request and researching the validity of the claims.
The Holiday Hands Project is an annual program that connects people in need directly with givers from our community. We take the stewardship of these relationships very seriously, and have created a detailed vetting system for these online requests. If any questions arise about a particular Holiday Hands listing, we have a system in place to verify the validity of the presented situation, including contacting the lister to request references and additional details.
We are confident that this process is working, and we are proud to report that the women and children who receive financial assistance through Together Rising have been fully vetted and each gift is approved by the Board of Directors. We continually monitor this process to ensure that it is effective and fair.