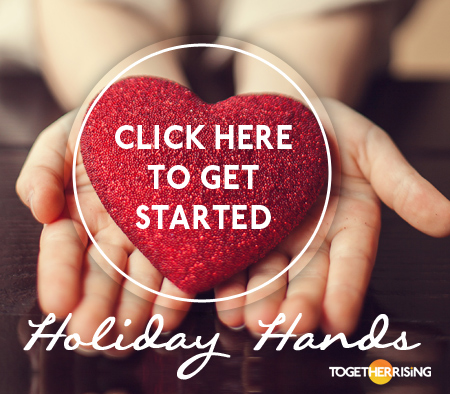 Holidays Hands is our biggest effort of the year to bring our community together.  It runs during the early part of November so that everyone can rest and enjoy time with their loved ones from Thanksgiving through the New Year.
Some of us don't have enough this holiday season. Some need help putting food on the table or buying gifts for their kids. During the first week of November 2016, hundreds of you will create online Holiday Hands listings describing your needs.
Some of us have a little extra. Some need to wake up and reach out to another family in order to connect and really experience what the holidays mean. During the second week of November, our community will reach out and fill the needs that are posted on this site.
Some of us have just enough. If that is you, you are invited to sit back and witness some miracles, to keep believing in people and love.
Because what we're really doing here is alleviating the poverty of loneliness and  disconnection by learning how to give and receive gracefully. We're responding to God's invitation… to join the beautiful cycle of loving and being loved.  It's not about the gift. It's about what the gift represents. It's about Love.
When the givers give they remember… I am needed. I am powerful. I am capable of loving my neighbors. There is enough.  And when the receivers receive they remember… I am loved. I am cared for. I am not alone. I have not been forgotten. There is enough.
And that's why we don't need to judge whether someone's particular need is worthy. It doesn't matter. We are not really about meeting that particular need. We are just meeting that particular need in an effort to meet the REAL need. Which is: "TELL ME I'M NOT ALONE. PROVE TO ME THAT LOVE WINS."