You are a Miracle. You are also a Miracle Worker.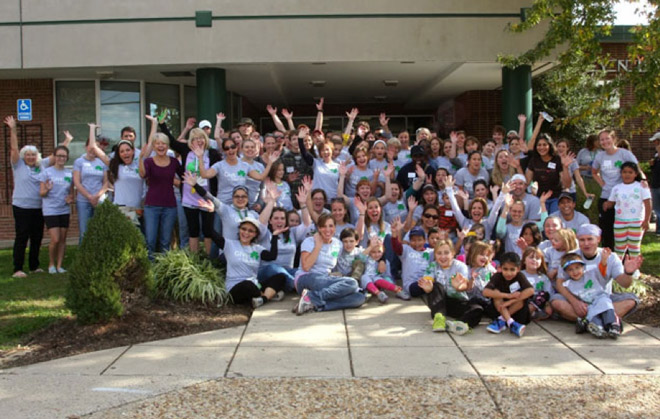 "We cannot do great things. We can only do small things with great love." – Mama T
"The world is run by the people who SHOW UP." – Brilliant Monkee
Ten days ago, we held our Monkee See- Monkee Do + Microsoft event at Lynbrook Elementary. The pictures tell the story–please click here to see them all.
A Special THANK YOU TO MICROSOFT AND TO ALL OF THESE FOLKS WHO MADE THIS SCHOOL TRANSFORMATION POSSIBLE 
Sunrise Identity donated $2,000 worth of those amazing t-shirts we  all wore with pride!
Meadows Farms provided a large discount for the new outdoor learning center equipped with new plants, trees, and shrubs!
Sunbelt Rentals provided us a free rental of a sod cutter and rototiller!
The Home Depot donated paint for the beautiful mural and soothing walls in the new sensory room!
Dell made a generous donation of over $5,000 in Latitude 10 Windows 8 tablets for the children and parents to continue learning about technology, safe internet searching, email, and the English language!
Melissa Greenhouse and her team at Meeting Solutions organized the entire day's event (and provided about 6,000 cups of coffee and 30 pizzas)!
Together, our teams donated:
A remodeled Sensory Room, used for students with autism and special needs, including painting, murals, the latest in specialized equipment, and XBOX Kinect for the classroom.
An expanded and remodeled Family Learning Center, including paint, new furniture, XBOX Kinect, 3 new Surface Pros, 14 new Surface RTs, and 10 new Latitude devices from Microsoft and Dell – that's 27 new computers for the teachers and students of the Family Learning Center.
An outdoor classroom with a wildflower garden; desks, landscaping, tree swing, a sandbox, and a new Leprechaun play house.
A facelift to Lynbrook's modular learning units, including power washing; painting doors and trim; door knockers, kick plates, trailer numbers; plants; and welcome mats.
In summary, our volunteers donated more than 300 hours to the school and over $70,000 in computers, supplies, and XBOX gaming. Over 40 THOUSAND of that came from YOU MONKEES. UNBELIEVABLE.
CONTINUE TO EXPECT MIRACLES.