$123,000 for emergency surgery in Haiti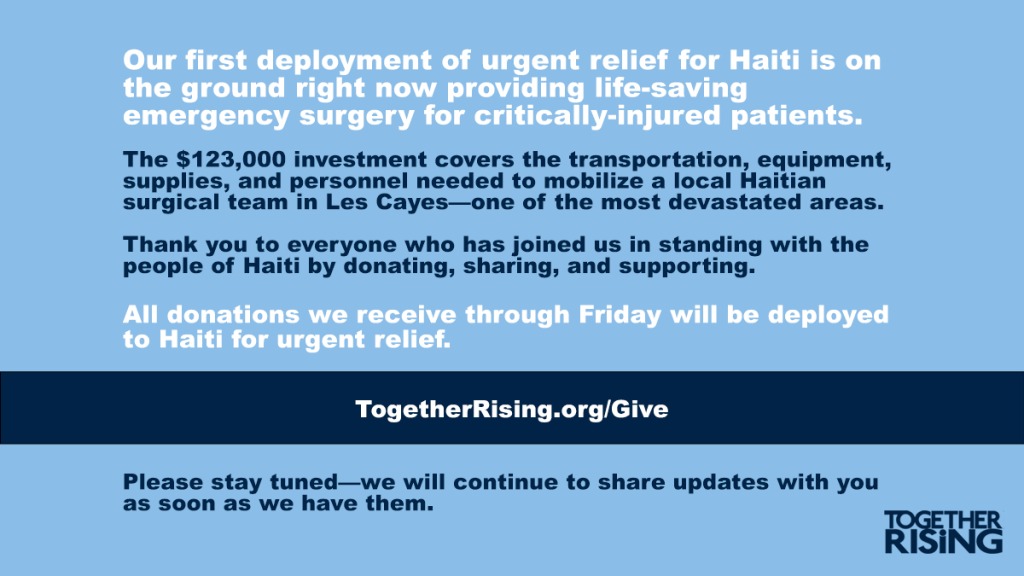 Our first deployment of urgent relief for Haiti is on the ground right now providing life-saving emergency surgery for critically-injured patients.
More than 6,000 people are injured. Thousands are in desperate need of urgent medical care, including emergency surgery for those most critical. Yet massive shortages of medical providers and supplies are making it nearly impossible for patients to be treated and for the severely injured to receive emergency surgery necessary to save their lives. Our $123,000 investment in our partner, Healing Art Missions (HAM), covers the transportation, equipment, supplies, and personnel needed to mobilize a local Haitian surgical team in Les Cayes—one of the most devastated areas. They will be traveling to and operating on location—meeting the most vulnerable where they are as many patients cannot be transported safely.
The surgical team is being led by Dr. Jacques, a Haitian doctor whose more than ten years of experience serving as HAM's Medical Director has enabled him to become deeply embedded and wholly trusted within the community. Dr. Jacques has first-hand experience leading emergency responses, as he was invaluable in HAM's response to the 2010 earthquake that killed more than 200,000 people, as well as the cholera outbreak later that year.
The needs on the ground are vast and varying, so the surgical team is expertly equipped, including a disaster trauma surgeon, a thoracic surgeon, a vascular surgeon, a wound care expert, two anesthetist nurses, a senior general surgeon, an orthopedist, an anesthesiologist, ten surgical, trauma, and anesthesia residents, and coordination staff.
Thank you to everyone who has joined us in standing with the people of Haiti by donating, sharing, and supporting. And thank you to our monthly and recurring donors, whose steady support is what enabled us to make an initial $250,000 commitment.
If you are in a position to donate but haven't yet, please consider making a gift of any size as all donations we receive through Friday will be deployed to Haiti for urgent relief.
Please stay tuned—we will continue to share updates with you as soon as we have them.