$200,000 for Hurricane Ida relief
Today, we are making an initial $200,000 commitment to meet the most urgent needs of families impacted by Hurricane Ida. Every penny is being urgently deployed thanks to TEAM LOVE—our amazing recurring monthly donors—whose continuous support allows us to respond as soon as crises strike.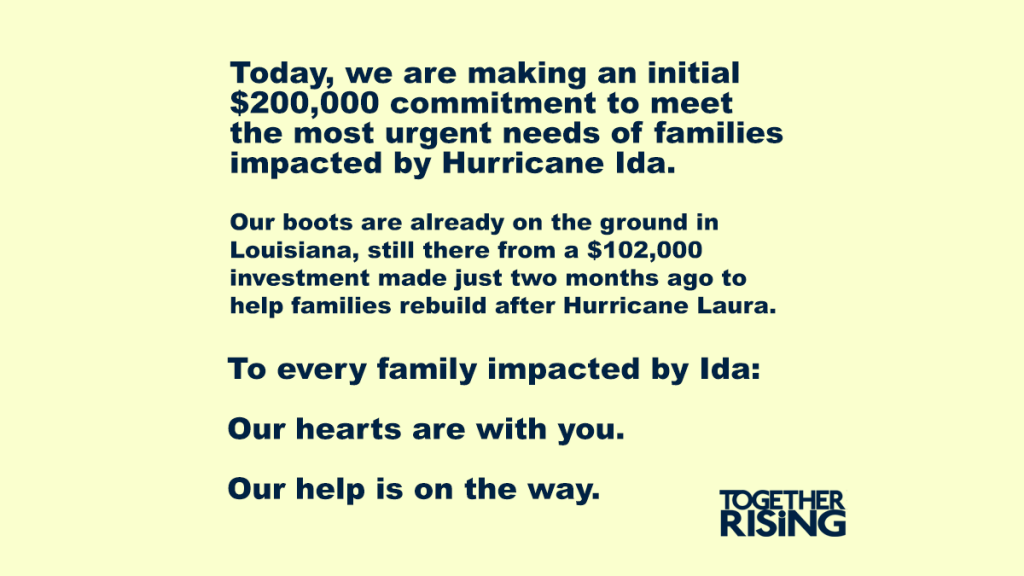 Yesterday, on the 16th anniversary of Hurricane Katrina, Hurricane Ida hit landfall in Louisiana. A category 4 storm wielding 150 MPH winds, Hurricane Ida, together with September's Hurricane Laura, is the strongest hurricane to hit Louisiana's shores in over 160 years.
When Hurricane Laura struck last year, Together Rising immediately deployed help and we've remained committed since then. Just two months ago, we invested another $102,000 in our long-time partner to continue to support Louisiana families as they rebuild. To date, our investment has provided vital assistance to 146 families. We have just begun.
Our boots are already on the ground in Louisiana, still there fulfilling the commitment we made to families after Hurricane Laura. There we will remain. Because the impact Ida has already had on families—many of whom had only just begun to rebuild after Laura—is absolutely devastating.
To every family impacted by Ida, know that all of us in this Together Rising community will continue to stand with you—now through our initial $200,000 commitment and in the months to come. You are not alone. Our hearts are with you and our help is on the way.
If you would like to join us in supporting Louisiana families—you can do so at the link in our bio or TogetherRising.org/Give. If you are not in a position to donate but still want to support this effort, please consider sharing this post with your people.
In Unwavering Solidarity and Relentless Hope,
Together Rising