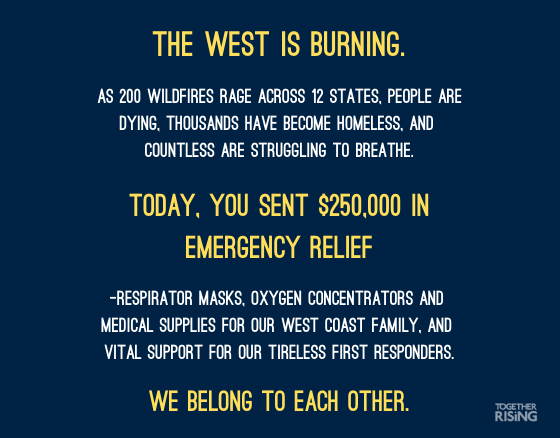 In the biggest wildfire outbreak in the U.S. in over a century, 200 wildfires are currently raging across 12 states.  The fires have destroyed towns, are burning hundreds of thousands of acres a day, have forced tens of thousands from their homes, and have killed at least 7 people, including a one-year-old boy.
The smoke is blotting out the sun as our family in the West struggles to breathe and mourns devastating, unrelenting lost.
Today, through Together Rising, you are sending $250,000 in emergency relief.  Through Direct Relief, you are providing thousands of people with respirator masks, oxygen concentrators, medicines, and medical supplies, as well as urgent support for first responders.
To our family out West:  We see you, we love you, and we stand with you.