$250,000 for urgent relief in Haiti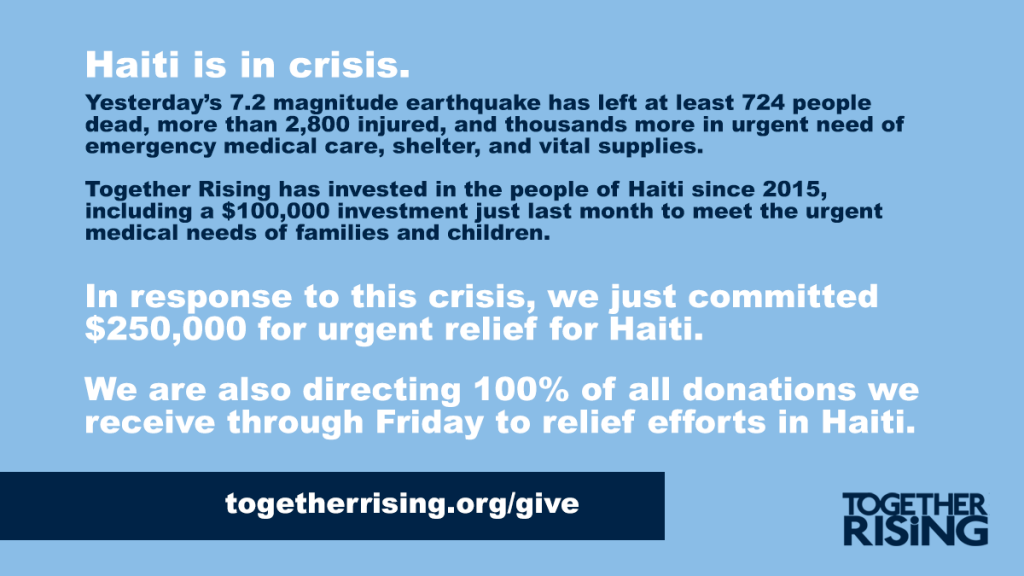 **100% of what Together Rising receives in donations through Friday will be deployed to provide urgent relief from yesterday's devastating earthquake in Haiti. Please join us in standing with the people of Haiti by giving at TogetherRising.org/give (link in our bio).**
Yesterday morning, a massive, 7.2 magnitude earthquake struck Haiti, leaving at least 724 people dead. More than 2,800 people are injured. Hundreds more are missing. Thousands more are in urgent need of medical care, shelter, and vital supplies—even as the country braces for Tropical Storm Grace.
Hospitals and clinics are overwhelmed. Hundreds of homes and buildings have been destroyed, leaving countless families and children without shelter. The need for relief efforts is enormous—and is only expected to grow over the next several days.
Together Rising has invested in the people of Haiti since 2015, including funding a maternity wing to allow pregnant people to welcome their babies with dignity, and with an investment just last month of $100,000, which included funding a medically-equipped van that will provide urgent medical services.
We will continue to stand with the people of Haiti throughout the aftermath of yesterday's excruciating earthquake. Today, we are committing $250,000 in urgent relief, including investing in boots-on-the-ground organizations to bring medical response and hospital accessibility to remote areas where it is needed most—and we are also directing 100% of all donations we receive now through Friday to relief efforts in Haiti.
Please consider joining us in standing with the people of Haiti through a donation of any size at TogetherRising.org/give.
Thank you for continuing to show up for these families.