$2,632,558.79 for Detained Children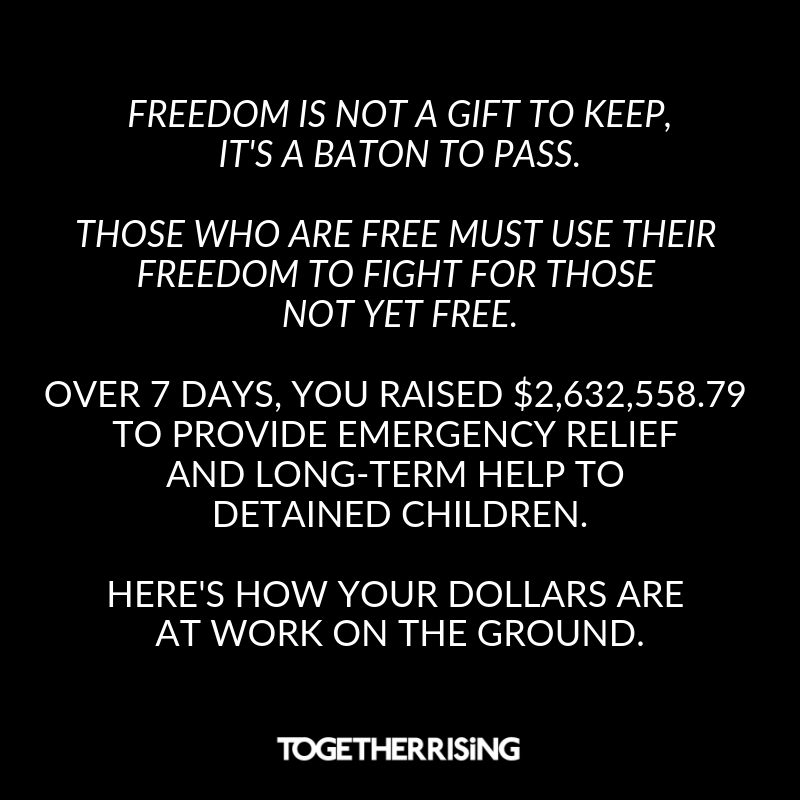 You – the beloved people of the impossible – are incredible.
45,537 of you beautiful people, over a period of 7 days, gave Together Rising $2,632,558.79 to provide children who are being detained in atrocious conditions across this country with emergency relief, and to fund long-term legal accountability to end this disaster.
Every penny of this $2,632,558.79 you gave to Together Rising represents your work, sacrifice, love and hope. We honor this gift by entrusting every single penny to the most effective, steadfast, heroic warriors on the ground – those who are healing and protecting these children.
More than two-thirds of the funding is already deployed in urgent, live-saving work: $900,000 to Holly Cooper and her incredible team at the Immigration Law Clinic at UC Davis Law, and another $900,000 to Neha Desai and her fierce advocates at The National Center for Youth Law – both of whom, as attorneys of record in the crucial FLORES settlement have the unique ability to access any detention facility in the nation.
These two brilliant, courageous women devote their lives to rescuing and defending these children. What they have already done with such little funding is astonishing. With your dollars, their reach and impact will be magnified exponentially: to travel to detention centers to inspect and investigate abuse, interview the children, remove them to protect their health and safety, and build legal cases to demand these atrocities end. Just this week, these warriors won an order on their legal demand for emergency relief for children detained in Texas.
We are currently finalizing our examination, interviews and vetting of the several other advocates who will be entrusted with the balance of $832,558.79. You will be the first to know when we determine the best and highest use of those funds to protect and defend these children.
There is no joy, honor, or responsibility greater than doing this work with you. Together, let's be the people of the impossible forever.