$265,566.06 to feed more families in Kentucky and support surrounding states
We promised we'd come back to you to share where every penny of donations is being invested in communities in Kentucky and surrounding states.
Together Rising is deploying $215,566.06 to feed more families in Kentucky. We are investing in Feeding America Kentucky's Heartland, whose team is working hard to get meals to families in the hardest hit areas, including Graves and Warren counties. Their team was directly impacted when a food storage warehouse in Mayfield was destroyed by a tornado. FAKH adapted almost immediately—moving food to a temporary location and making plans to relocate the warehouse—to ensure continued meal service for the families, children, and individuals they work so hard to keep nourished. Their team has also mobilized efforts to provide ready-to-eat bags of food that require no cooking and include extra utensils.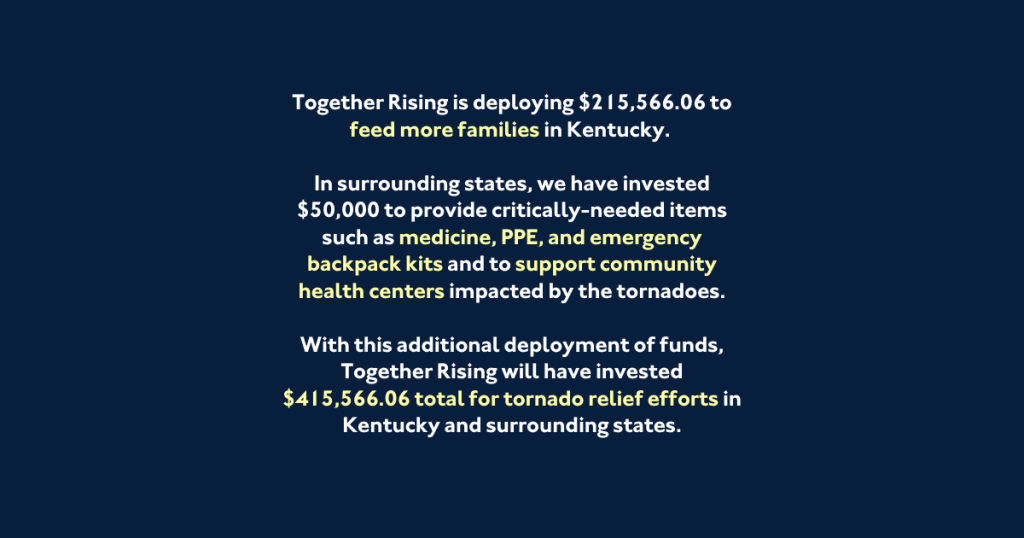 To help families in surrounding states, we have invested $50,000 in our trusted partner, Direct Relief. Our investment will provide critically-needed items such as medicine, PPE, emergency backpack kits and more. It will also support community health centers impacted by the tornadoes. To continue to serve their communities, several health centers need funds to make necessary repairs or even just to keep their doors open. We are stepping into that gap by ensuring centers have the funds they need.
With this additional deployment of funds, Together Rising will have invested $415,566.06 total for tornado relief efforts in Kentucky and surrounding states.
Thank you to the more than 4,100 people who donated to our tornado relief efforts. Thank you for showing up for the world through Together Rising. We appreciate each and every one of you.