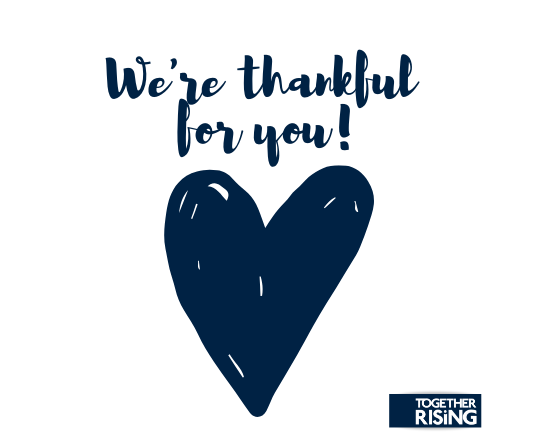 We give thanks for YOU!!!
Many of us take time today to remember the things we're thankful for, so here at Together Rising we wanted to say how thankful we are for YOU!
Over the past few years you've poured yourself into this community, in many acts of love, generosity, grace, gratitude, persistence, and joy. We couldn't have done a single bit of this without each one of you.
To those who have leapt joyfully into the Love Flash mobs and made the impossible happen over and over again: THANK YOU.
To Team Love -- those who give recurring gifts of $5, $15, or $25 a month -- your investment provides for our gifts year-round, and allows up to support those in crisis right away: THANK YOU.
To those who have been brave enough to ask for help, for yourself or someone you love: You as vital a part of our family as those who give. THANK YOU.
To everyone who has cheered us on, left comments, sent emails, asked wise and important questions, called attention to needs: We are grateful to every one of you. THANK YOU.
We can't believe we get to do this work with such amazing people as you. 
Love,
All of us at Together Rising