A Baby (& His Family) Breathing Easier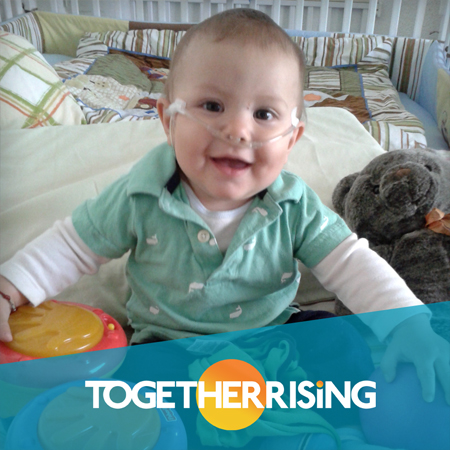 Last year, Antonella wrote to Together Rising about her 8-month old nephew, Lorenzo, who has a rare chronic lung condition called NEHI. Antonella's sister, Camila, and her husband were struggling under a mountain of medical debt and couldn't afford the $4,000 portable oxygen machine sweet Lorenzo desperately needed. Lorenzo's doctors told the family that without this machine- this little guy and his family would be home bound until he was five.
After our vetting we said to Antonella: "Sister – if our community buys your family this $4,000 machine, will little Lorenzo be able to go outside to play? And will his mama be able to carry him around for the first time? And will not just Lorenzo, but every single member of your family be able breathe much, much easier?" Yes, Antonella said. Yes, yes, yes.
Yes is the best.
So of course we bought the machine. YOU bought the machine. And you sent it. And this is what Antonella sent back.
"THANK YOU THANK YOU THANK YOU for helping Lorenzo. My sister can carry him and the machine outside by herself without having to have someone push the big tank that they used before. She can go to play dates and not have to worry that other kids might touch or push the tank making it a huge risk to everyone around it. Lorenzo and his POC fit in a stroller! They go on trips safely in the car without having to worry that anything is going to explode. And this machine has reduced their costs of monthly oxygen expenses to $0! All they pay now is the electrical bill. Thank you, Together Rising sisters – from the bottom of my heart. There are no words to express my gratitude and the gratitude from all my family to all of you for this enormous gift."
And Lorenzo's mama and Antonella's sister made us all this beautiful postcard: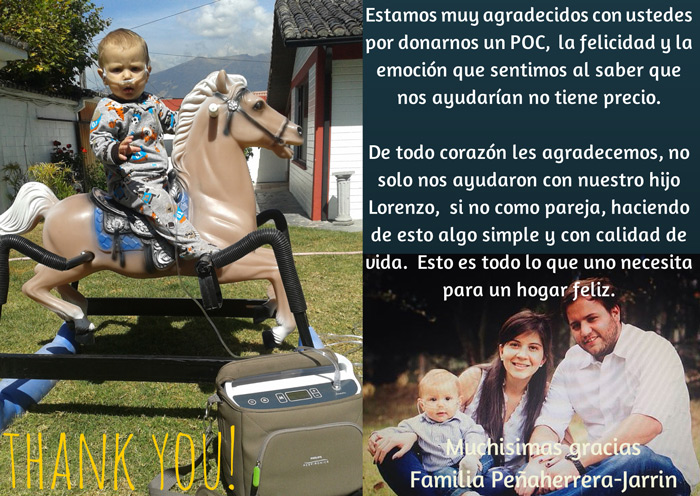 We are so thankful that you have given us this POC. The happiness and joy that we felt when we knew you were gonna help us is priceless. We want to thank you from the bottom of our hearts, you have not only helped our child Lorenzo but you have helped us as a couple, helping us to make this simple and to have a better quality of life.
Thank you, thank you, thank you,
The Penaherrera-Jarrin family
This is what we're doing TOGETHER, my friends. We got Antonella, her sister and her husband, and Lorenzo RISING.