A thank you from Melissa, a Navy veteran and mom of two
Melissa, a Navy veteran and mom of two, went from worrying she'd overdraw her checking account buying lunches for her kids' first day of school to having room to breathe—because of you.
Melissa and her family are now happily settled in Minnesota, but the journey to get there was not easy.
After Melissa's husband lost his job last year, they moved from Washington state to San Diego to rent housing from a family friend. The children enrolled in a new school.
Due to the high cost of living in San Diego, the family hoped to eventually move again, this time to a more affordable part of the country. They saved meticulously for months. They found a modest house in Minnesota. They planned for a cross-country move with a five and eight-year-old. They longed for a fresh start—and were doing everything possible to make it happen.
The next paragraph mentions sexual assault and mental illness.
Melissa served in the Navy for seven years. Horrendously, she was sexually assaulted during that time. Because of that devastating trauma, Melissa has PTSD, generalized anxiety disorder, and major depressive disorder.
While being a disabled veteran meant that Melissa received some financial assistance to buy the house in Minnesota, it wasn't enough. The final cost came in higher than the estimate at the last minute. They were just short.
Through Together Rising, you stepped into that gap and covered the remaining cost needed.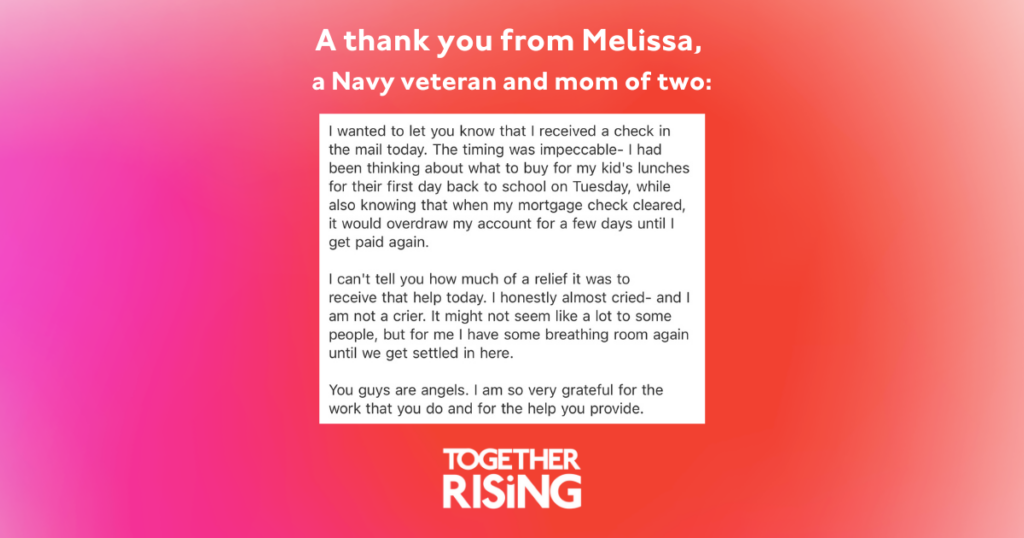 In her thank you, she wrote:
"I have some breathing room again until we get settled here . . . I am so very grateful for the work you do and for the help you provide."
Melissa, we are so very grateful for YOU. Thank you for your service. This Veterans Day and every day, we are grateful for the veterans who have served our country and their families and caregivers.
We transform heartbreak into action. Melissa's story so beautifully illustrates how we can turn a heartbreaking situation into help. We continue to be a place where families can turn, because you—our amazing community of donors and supporters—make it so.
Note: A pseudonym has been used per the grant recipient's request.