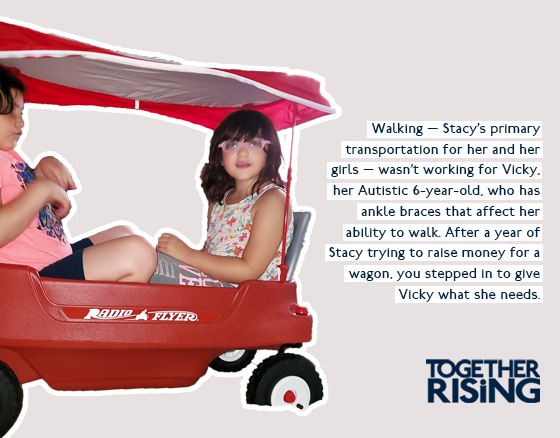 Stacy, a mama of two girls, wrote to us recently about her family's very limited transportation options. Walking is Stacy and her girls' primary way of getting where they need to go -- but for her Autistic six-year-old daughter Vicky, who has ankle issues that affect her ability to walk and require her to wear braces, this form of transportation wasn't working. Her little girl needed a wagon. 
Stacy shared what was breaking her heart -- that she longed to provide the wagon for Vicky -- but like so many families across the country right now, she didn't have the financial means. After trying to secure the funds for over a year without success, she turned to Together Rising -- trusting us with her heartbreak, hoping she would be heard. We can't fix every way in which our world is hurting right now, but because of the way this community continuously steps up to be the bridge between heartbreak and action, we could fix this. 
You, through Together Rising, delivered this canopied wagon that Vicky can ride in comfortably, making it so this mama can breathe a little easier knowing she and her girls can get where they need to go. 
When Stacy learned the wagon was on its way, she told us it would be a "life changer." Then it arrived and she sent this sweet photo, sharing that "it is perfect" for Vicky.
We're so grateful to TEAM LOVE, our monthly recurring donors, who make it possible for us to act quickly when families like Stacy's need a little extra. Thank you for refusing to let the fact that you can't fix everything keep you from helping to fix something you can. Because of you, when Stacy advocated for her girl, we were there to listen, to make sure she was heard. 
Let's keep listening to women about what they need, so we can turn heartbreak into action and build the world we believe in, together. 
[While many self-advocates and allies prefer person-first language that puts the person before any identifier such as "person with autism," "people with autism," or "individual with ASD," many others prefer using the terminology "Autistic," "Autistic person," or "Autistic individual" because they experience autism as an inherent part of an individual's identity. Stacy and Vicky are part of the second group, and therefore in this post we respect their self-identification.]