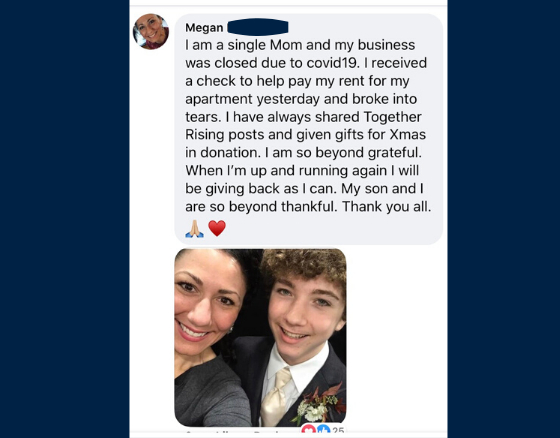 More than ever before, people who have been generous givers to Together Rising are now turning to us to ask for help. And we are honored to send them what they need to pay rent, buy groceries, or keep the lights on.
Like Megan, a single mom who has been a loyal supporter of Together Rising who, after her business closed due to the pandemic, was unable to pay rent for the apartment she shares with her son. Last week, she received a check you sent her to cover her rent. She broke into tears and wrote this note of gratitude to you, vowing that when she's back on her feet, she will be back investing in this community.
Reading Megan's story and the story of so many others, here is what we realized: Through Together Rising, we have created the community we need.
Some of us need to know that, together with thousands of others, we can make real, life-changing impact.
Some of us need a little help to get back on our feet.
Many of us will need both during different seasons -- and we will find both through Together Rising.
Because Together Rising isn't a group of "givers" who "help those in need." We are people who know that all of us are in need -- in need of community, in need of a way to turn our heartbreak into change, in need of the comfort that when we need our sisters, they will be there.
Thank you for creating Together Rising. Let's keep staying in need -- in community -- forever.