An additional $175,000 to support Afghan families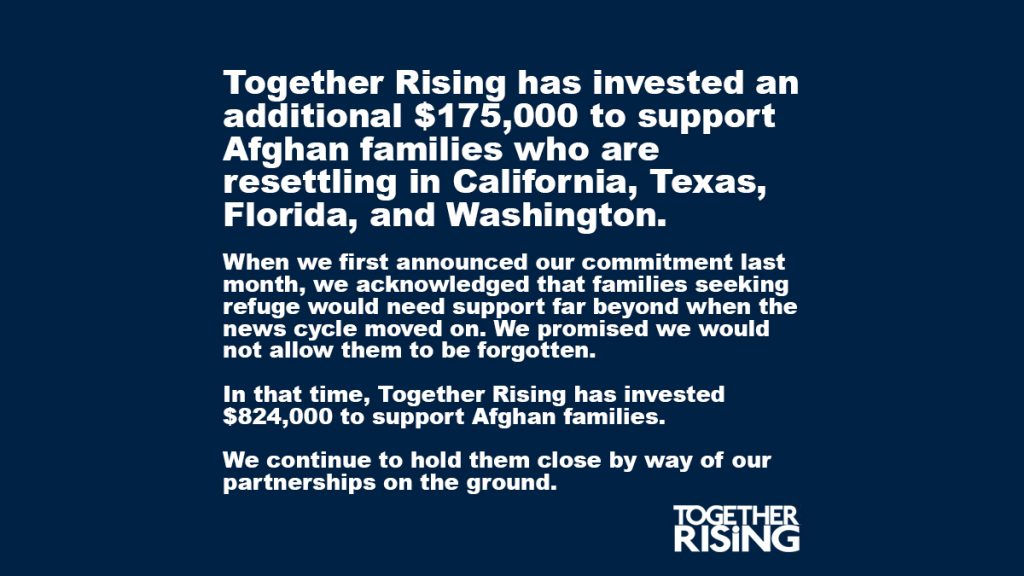 We have invested an additional $175,000 to support Afghan families who are resettling in California, Texas, Washington and Florida.
Together, we are supporting:
Access California Services, whose team is uniquely equipped to meet families' most immediate needs, including housing, food, immigration process and documentation, English classes, employment assistance, youth support and mentorship, and trauma-informed mental healthcare. In the first wave of resettlement, more than 5,200 Afghan refugees are being resettled in California. Services are offered in Pashto and Dari, the most widely spoken languages in Afghanistan, and among the staff, administration, and board are people who have been refugees themselves.
DFW Refugee Outreach Services, whose team is led by an Afghan woman, making them poised to provide culturally sensitive care to families who will be resettling in the Dallas Fort Worth region of Texas. In the first wave alone, over 4,000 Afghan refugees will resettle in Texas. The team has been actively involved in supporting newly resettled refugees—providing English lessons, employment placement and assistance, and mentorship for families.
Afghan Health Initiative, whose team is addressing families' most urgent needs, including food and housing. More than 1,600 Afghan refugees will be resettled in Washington. In addition to the organization being Afghan-founded and led, their staff and board are almost exclusively Afghan.
Radiant Hands, whose team is helping families resettling in Florida by providing food and household goods, employment assistance, translation services, and financial assistance. They are also providing counseling services, running youth programs, and teaching driving, ESOL, and financial skills classes. Radiant Hands was founded by and continues to be led by Muslim women.
When we first announced our commitment to Afghan families last month, we acknowledged that families seeking refuge would need support far beyond when the news cycle moved on. We promised we would not allow them to be forgotten.
Since then, Together Rising has invested $824,000 to support Afghan families. We continue to hold them close via our partnerships on the ground.