Appreciation for more than 8,600 teachers across 116 schools in six states with lowest teacher pay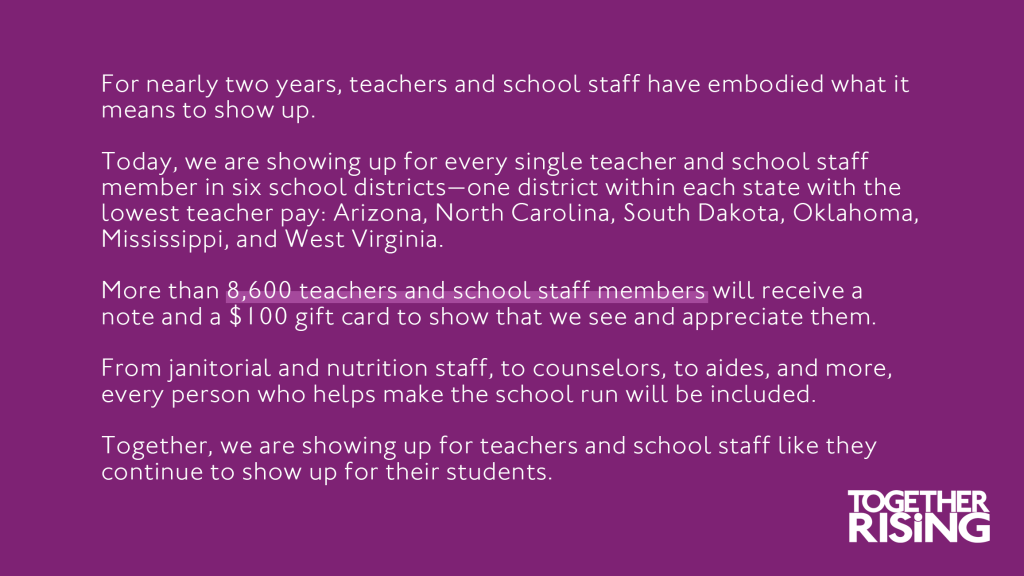 For nearly two years, teachers have embodied what it means to show up. After an abrupt but necessary pivot to virtual learning, most taught through a screen for an entire school year. Now some are still remote while others are back in person. Some are balancing both. Those in person are shouldering the responsibility of protecting themselves and their students from exposure to COVID. All across the country, navigating these ever-changing circumstances has been extremely stressful.
Yet despite their hard work and dedication, teachers continue to be under appreciated. We have long known that they are underpaid. According to the National Education Association (NEA), teachers are paid on average 20% less than other college-educated professionals with comparable experience. Teachers are also expected to overwork. It is commonplace for them to pay out of their own pockets for basic classroom supplies. None of these aspects are sustainable, let alone all of them combined.
Now the stress of the pandemic has pushed teachers to complete burnout. In a survey by the NEA, 25% of teachers were considering leaving teaching altogether. Many already have.
In thinking about how to support teachers, our goal was to do something for them. Not for their classrooms or schools—for them.
We are thanking every teacher and school staff member in five entire school districts—one in each of the six states with the lowest teacher pay: Arizona, North Carolina, South Dakota, Oklahoma, Mississippi, and West Virginia. More than 8,600 teachers and school staff members will receive a note and a $100 gift card for their personal use—for whatever makes them feel appreciated. From janitorial and nutrition staff, to counselors, to aides, and more, every person who helps make the school run is included. Across the five districts, almost all of the 116 schools are Title I schools.
Together, we are showing up for teachers and school staff like they continue to show up for their students. Together, we are proving once again that we belong to each other.
Thank you to every teacher and school staff member at Boone County Schools, Mitchell School District, Craven County Schools, Baboquivari Unified School District, Noxubee County School District, and Oklahoma City Public Schools. We are so honored to support you.
You can help us lift more families and individuals in need. Would you support us this holiday season through a one-time gift or by becoming a recurring donor?