BRAWS (Bringing Resources To Aid Women's Shelters)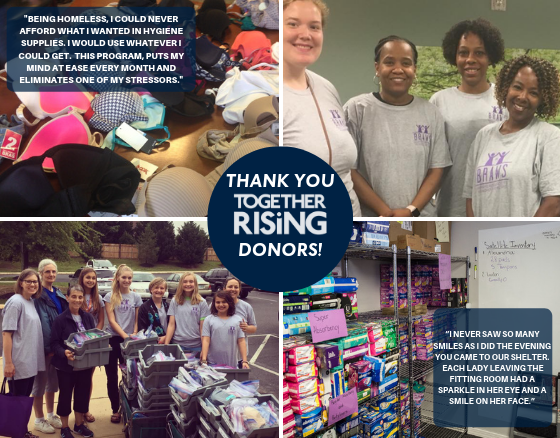 Did you know that tampons and pads are not covered by food stamps or WIC, and are taxed at normal state tax rates?
Did you know that – even though the majority of individuals in homeless shelters are women and children – some of the hardest supplies for homeless shelters to stock are feminine hygiene products and bras?
Please meet Holly.  Five years ago, she learned these facts, and it broke her heart that women and girls in homeless shelters -- who are going through the hardest times in their lives -- don't have access to these everyday items that so many of us take for granted.
Holly decided to do something about it. She threw a party and asked guests to bring tampons, new bras and underwear.  Eventually, she founded BRAWS (Bringing Resources To Aid Women's Shelters) – which last year alone gave away 2,384 new bras, 4,846 pairs of new underwear, and 141,480 tampons and pads, and partnered with schools and shelters to launch public dispenser programs so women and girls have access to free feminine products.
Together Rising exists to turn our collective heartbreak into collective action, so we love the way Holly channeled her heartbreak from a problem in her community into fuel to create change.
We also LOVE work that don't just "help" -- but underscores the dignity of people working so hard to rise.
That's why – because of your fierce generosity to Together Rising -- we donated $5,000 to BRAWS for the purchase and distribution of underwear, tampons and bras – including individual bra-fitting sessions for women and girls in homeless shelters.   
What breaks your heart in your community? What do you do with that heartbreak?
TEAM LOVE turns heartbreak into action everyday all over the nation and world.
Please join us as TEAM LOVE by signing up for a recurring tax-deductible donation to Together Rising at togetherrising.org/give.