Breathing room for a single mama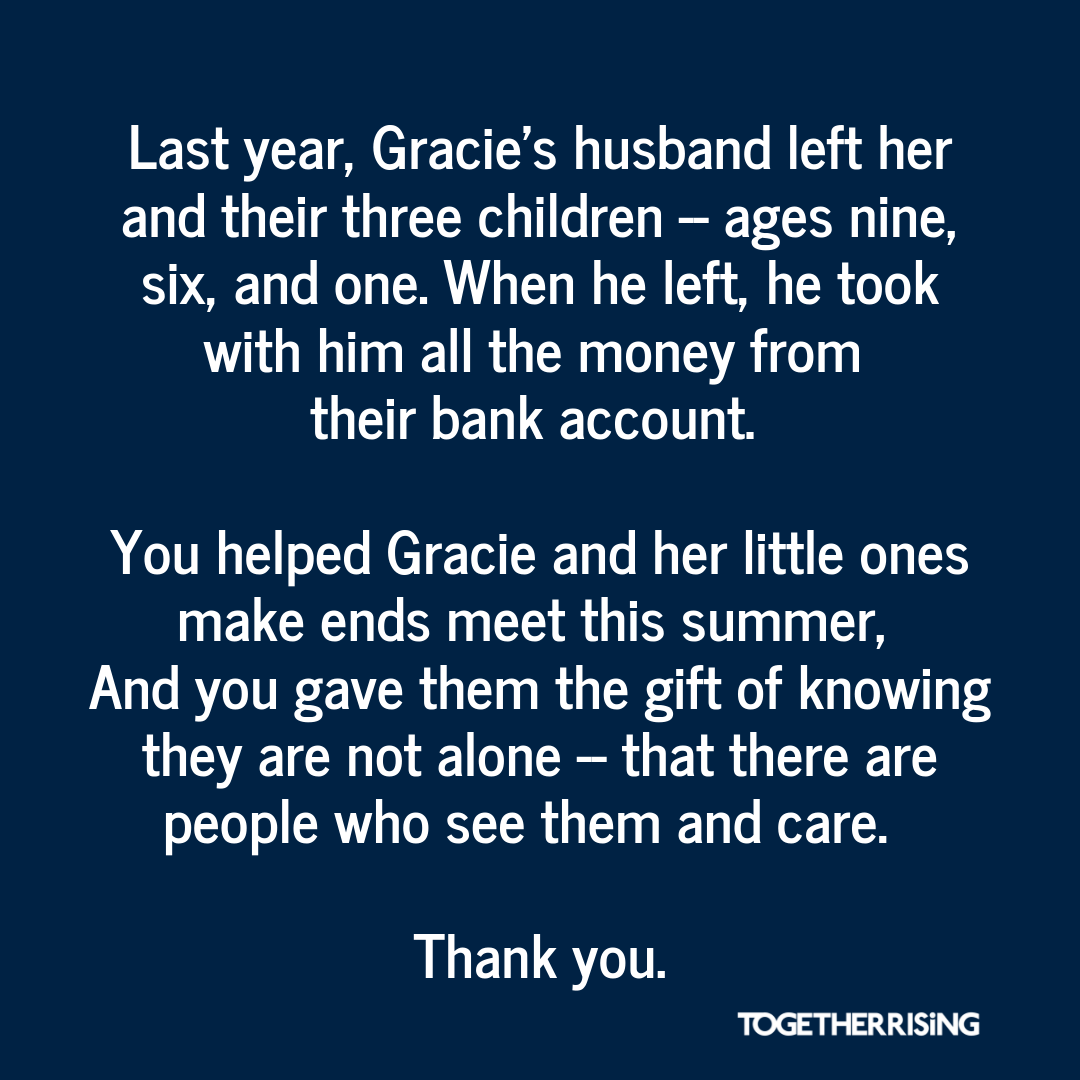 We hold the love of our donors in our hearts each time we review a request for Together Rising's help.  When we read Gracie's story, we were so grateful to be able to extend your hearts and dollars to her.
Last year, Gracie's husband left her and their three children -- ages nine, six, and one – When he left, he took with him all the money from their bank accounts.
So, overnight, Gracie found herself alone and heartbroken, and as the only caregiver and the only source of income for her three young children.
This brave, scrappy survivor mama found a home for her family, and a job in education, and was able to put together enough to pay the bills each month. But her job was only for the school year, so when the summer came, Gracie faced months with no income, and no way to pay her family's rent for the summer.
Gracie wrote to Together Rising asking for help covering rent for one or two of the months she would be without an income while she works for a more sustainable way forward.  
Because of your generous monthly giving, we were able to write back right away: 
"Dearest Gracie, 
We were so moved by your story and your bravery.   We would be honored to give you some breathing room and pay three months of your rent. We know your rent is due soon, and we want to make sure the payment isn't late. On behalf of the community at Together Rising, consider it done. 
Your sisters have got you, Gracie!
Together Rising"
Thanks to you, after the trauma of last year, this warrior mama was able to take a deep breath this summer, wrap her arms around her three little ones, and make a plan for the way forward for her beautiful family.  
You helped Gracie and kids not just make ends meet this summer, but you gave them the gift of knowing they are not alone -- that there are people who see them and care.  
Through your gifts to Together Rising, you are making small and big miracles happen everyday -- proving over and over again that we belong to each other, and that there's no such thing as other people's children. 
THANK YOU.
Together Rising