Celebrating Julie, a Special Education Warrior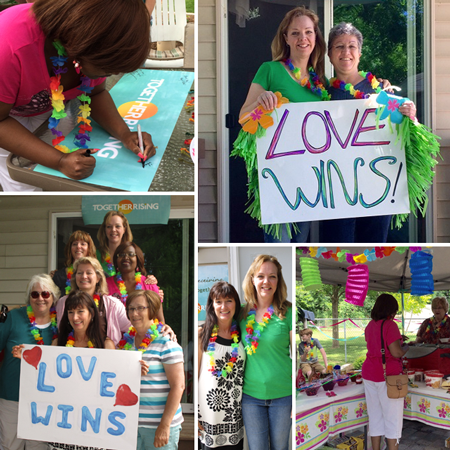 Friends, meet Julie. Julie is one of the 176 warriors we lifted up in Together Rising's last Love Flash Mob.
Here's what one of the friends who nominated Julie said about her:
"Julie is my hero. Julie works in a special education classroom and assists the classroom teacher, Mrs Sack. She sits one-on-one with students to help guide them through their lesson plans, accompanies them through the hallways to keep them safe, toilets and diapers the children who are unable to take care of those necessities themselves, and is ever vigilant to monitor the children for warning signs of seizures or other potential sudden illnesses/emergencies. Because of the heightened needs of the students, her work day can be amazingly stressful. Yet Julie greets every school day and each and every student in exactly the same way—with patience and love and a true desire to see the children succeed and grow and experience life to the fullest. (Julie has more patience in her pinkie than I do in my entire body!)
After telling me about an especially difficult day, Julie assured me that the rewards far outweigh the negative. She has helped "hopeless" children learn how to write their name, master colors and shapes, and improve comprehension and motor skills. When one of Julie's "little guys" runs up to her in the schoolyard, throws his tiny arms around her legs, and exclaims with adoration, "I loooooove you, Mrs. Johnson!," all of the stress and difficulties of her job come into perspective. The simple truth is that Julie LOVES what she does. No matter how difficult or stressful, Julie loves her job as Mrs. Sack's aide and she loves their classroom—but most of all, Julie loves these very special children."
THANK YOU, Special Education WARRIORS! In honor of all of you—Together Rising hooked up Julie and all of her colleagues with an end-of-year ice cream celebration and a grant for new classroom supplies to spoil her little warriors next year.
Ice cream alone is GOOD. Ice cream Together is Better.