Computers for youth in foster care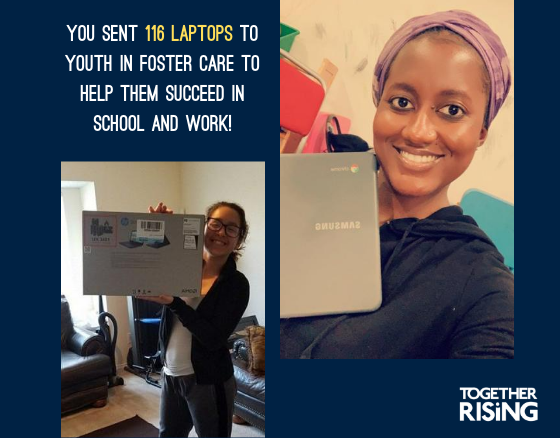 Whether virtually, hybrid, or in person, parents, teachers, administrators, caregivers, and students nationwide are anxiously doing the hard work of getting back to school. 
During this difficult time, you showed up to help some very special students get the equipment they need. You, though a $25,000 grant from Together Rising to One Simple Wish, purchased 116 laptops for youth who are in, or aging out of, foster care, to allow them to continue their education. 
Some of the laptops went to young adults who have aged out of foster care and need the equipment to continue their education or employment, and some to youth who are in the foster care system and whose school systems do not provide access to school system equipment during this crisis. 
One of the young people you invested in is 16-year old Saniya. She is remote learning, and with the laptop you sent, she can stay on top of her assignments, and continue to work towards her goal of becoming a nurse!
Another is Fanta, who is studying psychology at the University of Maryland, and who wrote: "I just wanted to say thank you for the laptop. This is a blessing in so many ways. I am now able to complete my school work in a timely manner. Things have been very difficult during this pandemic, and my education is one less thing I have to worry about thanks to all of you. Again, thank you so much."
Thank you for your continued belief that there is no such thing as other people's children. And for helping Saniya, Fanta, and so many others to feel that they are not alone in this difficult time. We belong to each other.