Connecting during COVID-19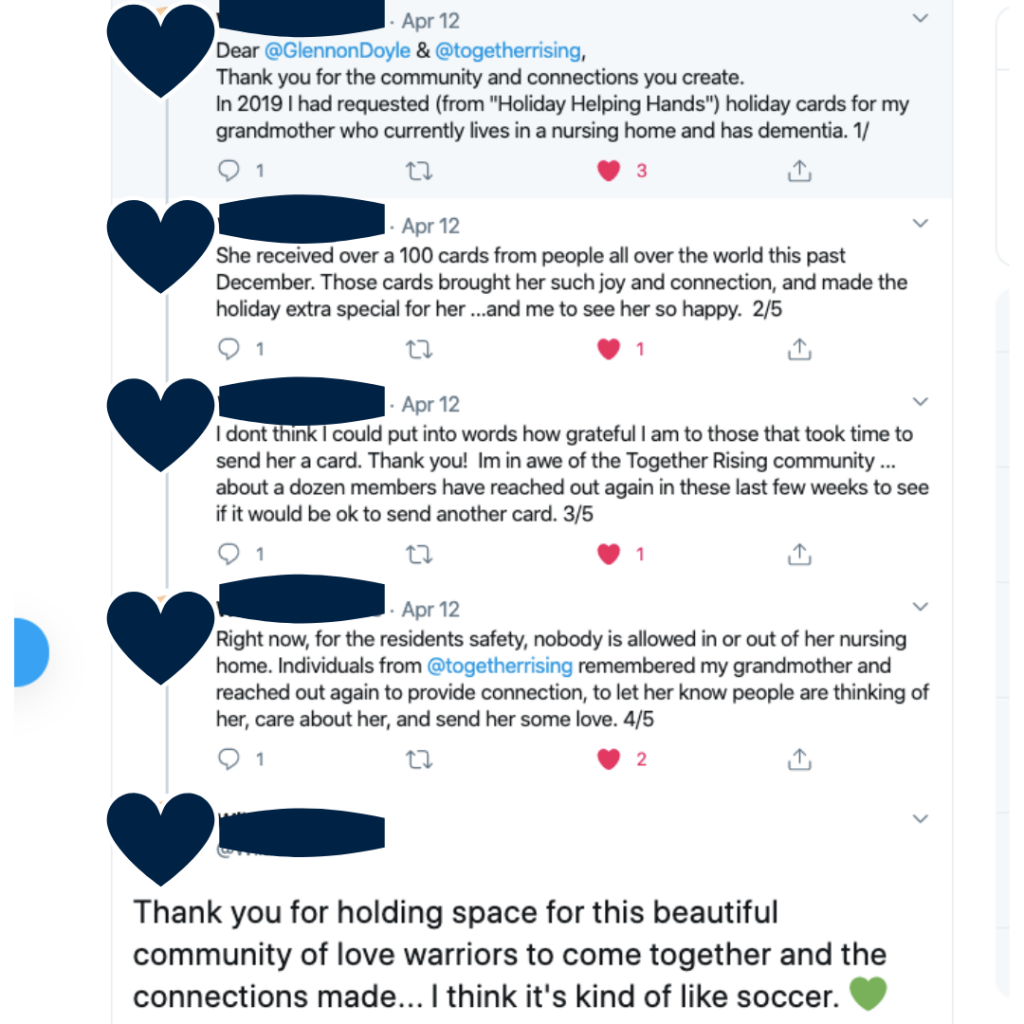 If you are feeling isolated, or know someone who is, please consider requesting notes from this community through our year-round Together Letters program. It's a place where you can ask for words of encouragement and support; where you can respond to and say, "I see you. You are not alone."
In December, Wilah made a Together Letters listing for her grandmother who lives in a nursing home and has dementia. You--the Together Rising community--sent OVER ONE HUNDRED cards to Wilah's grandma over the holidays. Wilah said it was truly a gift to see her grandma so happy, "Those cards brought her such joy and connection, and made the holiday extra special for her."
Wilah recently told us how amazed and grateful she was that, when the pandemic struck, the same beautiful people who sent letters during the holidays reached out to her grandma again to "let her know people are thinking of her, care about her, and to send her some love."
During this time that is so stressful for everyone, and during which nursing home residents cannot have visitors, Wilah said that this community's incredible thoughtfulness and love made a giant difference.
Thank you for showing such love for Wilah's grandma.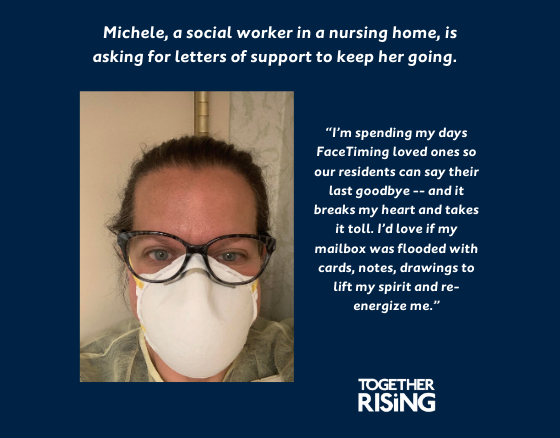 We are receiving many requests these days - including from heroic health workers on the frontlines - who are carrying so much right now. Like Michele, a social worker in a nursing home, who is asking for letters of support to keep her going. She wrote:
"I'm spending my days FaceTiming loved ones so our residents can say their last goodbye -- and it breaks my heart and takes it toll. I'd love if my mailbox was flooded with cards, notes, drawings to lift my spirit and re-energize me."
To send a note of encouragement to Wilah's grandmother, to Michele, or to someone else -- or to submit a request for letters for yourself, a friend, or neighbor, please go here: https://togetherrising.org/holidayhands/browse-categories/?category_id=6%2Ftogether-letters/.
For over a decade this community has shown up for one other in the hard and carried it together.
We are going to get through this together, like we always have.