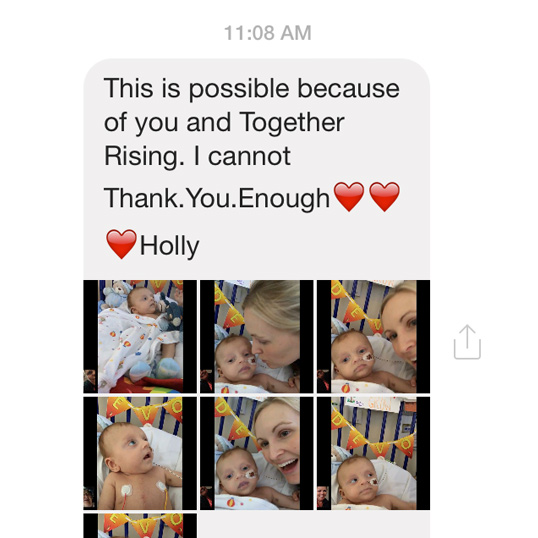 Friends, meet precious Devon and his mama, Jaclyn. Devon was born with some serious heart conditions, he has been in the hospital almost non-stop since birth. Devon's great aunt Holly wrote and told us about Devon, explaining that the hard situation is being made harder because, while this little family lives in the UK, Jaclyn's family is from the US. Her parents have had to leave Jaclyn, her husband, Luke, and Devon behind to return home to Wisconsin, even though Devon is still sick and in the hospital.
Together Rising asked what we could do to support them, and Jaclyn told us that anything we could do to help her stay connected to her family would mean the world to them. Together Rising gave them funds to purchase an ipad so that the family can now FaceTime together from the hospital. Even though they are far apart, Jaclyn and Devon can now still see and feel the love and support of her family every day.
Here's a note we got from Jaclyn:
I just want to say a huge thank you for sending my Aunt Holly gift cards so we were able to get an iPad to keep in touch with family and friends back in Wisconsin. Today was a very difficult day because it was the first day without my parents and the weight of it all really hit my husband and I, however being able to FaceTime with my parents, auntie, uncles and grandma really made today easier. I know it meant so much to my parents to see Devon today as we were able to FaceTime with everyone from the hospital. 
We're also able to capture memories taking photos and videos to one day share with Devon when he's all grown up to tell him what a brave boy he was. He might be getting his hearing aides fitted for the first time tomorrow and am so thankful we have a way to capture it now!  
I can't even begin to express how your generosity and the generosity of others has impacted us. Thank you from the bottom of our hearts.
Lots of love,
Jaclyn, Luke and Devon Steel 
This is what you are doing, what we are doing together.
Please continue to lift up this sweet family, dear ones. We got Jaclyn rising by getting her connected to the ones she loves, but they still need our love more than ever. Let's send light and love and hope to a precious little boy and his beloved parents in the UK. We Belong To Each Other.
#ToGetHERRising