Thank you for continuing to stand with families affected by COVID-19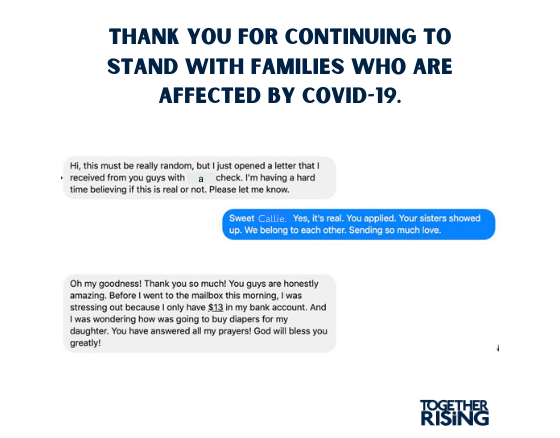 Because Callie cannot earn enough income to afford daycare for her four-year-old and two-year-old children, her husband was the sole income earner in their home.  When her husband's job shut down because of COVID-19, they did not have funds to last them even for two weeks.  
They were running out of food and diapers and were a month behind on their electricity bill, when Callie wrote to Together Rising:  "We need help." 
Callie could not believe it when a check arrived from you in her mailbox.
"Is it real?" she asked? 
Thanks to all of you who invest in Together Rising, so that we can be there for families like Callie's, Yes, it's real. 
This community is real, and this community keeps showing up when people like Callie need it most.  YOU HAVE NOW GIVEN $302,482.14 to 333 families to help them through job loss and hardship during this pandemic.  
Thank you for being real, and true, and showing up for each other during these hard times. 
We are forever grateful.