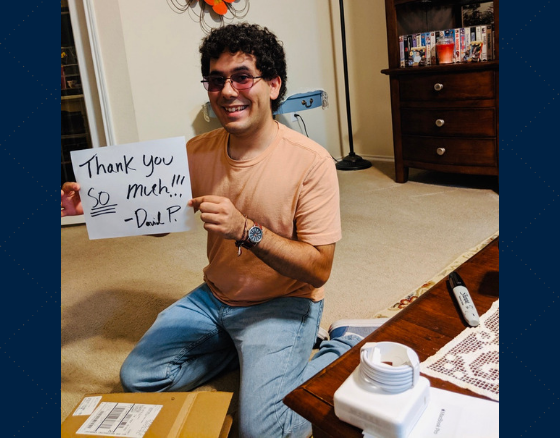 Meet David!
David is excelling in college and working part time while supporting his mom, who is living with disabilities. He earned scholarships that cover his tuition, housing, and some other school expenses, and he chose to live at home so he can use his scholarship money to help support his mom.
"He is my miracle and I am a very proud mama," David's mom Lupe wrote to us. "He is still working hard keeping us afloat. Because of him we have been able to hold on to our home and survive. He never complains and works so hard."
David recently found out he would need a new computer to be able to do the work for the upper level classes in his computer science major. None of his scholarships provided funds for this, and David and Lupe could not afford it.
That's when you stepped in to close the gap. You sent David the computer he needs to be able to continue to excel in his education!
David wants us to tell you that he is forever grateful to you and will pay your gift forward as soon as he can.
Thanks to Lupe and David for taking such good care of each other. Thanks to our recurring givers on Team Love who made possible this investment in David and his future.
Thanks to this Together Rising community, for proving that we belong to each other.