East Los Angeles Women's Center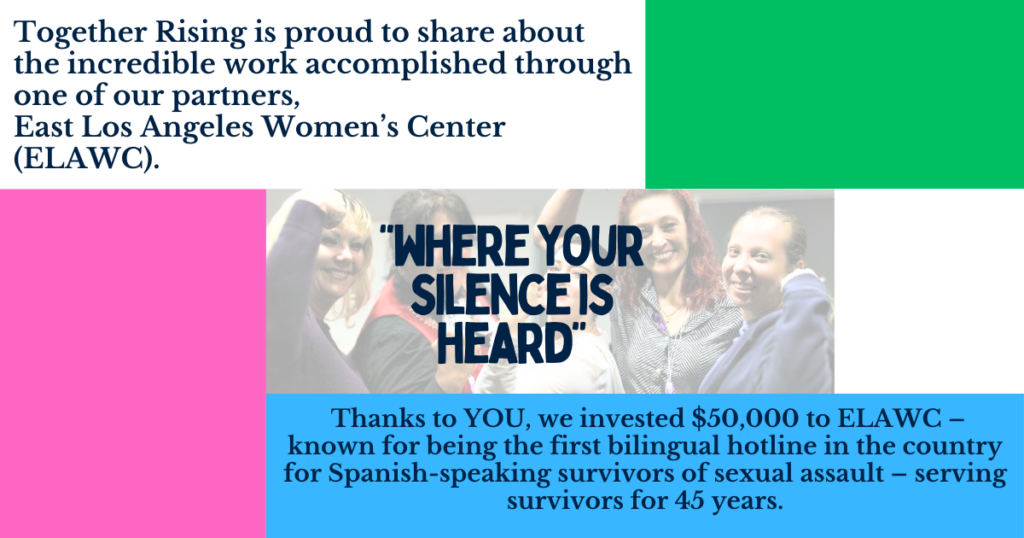 In celebration of Hispanic Heritage Month, Together Rising is proud to share about the incredible work accomplished through one of our partners, East Los Angeles Women's Center (ELAWC), and our $50,000 investment in their vital work.
For far too long, if you were to call a sexual assault hotline, the person answering the phone would only be expected to speak English; leaving entire communities left on their own to navigate the emotional, physical, and legal aspects of rape, assault, and abuse. ELAWC became known for being the first bilingual hotline in the country for Spanish-speaking survivors of sexual assault.
Their 24-hour crisis hotline has provided nearly 45 years of continuous assistance to survivors of rape and sexual assault, domestic violence, and HIV/AIDS throughout Greater Los Angeles. The East Los Angeles Women's Center is proud of its long-standing commitment to providing culturally competent services tailored to meet the unique needs of Latine families and build safer healthy communities.
The thousands of women that ELAWC serves each year encounter trained and certified volunteers and counselors who truly speak the same language and understand the customs and traditions of the women served. Their connection to the local culture enables them to provide highly personalized, sensitive services to help women cope, survive, and ultimately thrive.
Thanks to YOU, Together Rising was able to invest $50,000 to provide support to ELAWC's ever-expanding programming for women, men, youth and the Latine community at large. When we expand the circle of support for those seeking safety, we truly make it safer for us all.