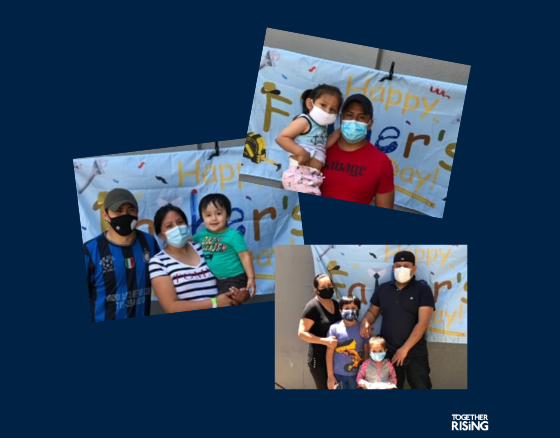 Earlier this year you sent $35,000 to Nido de Esperanza, an amazing organization in the Washington Heights neighborhood of New York City that serves mothers and young children. Most of the mamas are recent immigrants and the majority of them worked as stylists and manicurists, dishwashers, and housekeepers--jobs that ended abruptly when the city shut down due to the pandemic.
Because of your investment in their community through Together Rising, Nido de Esperanza has been able to help 75 vulnerable families avoid homelessness and hunger. 
Last month, on Father's Day, the team at Nido de Esperanza put up a banner as a pop-up photo opportunity to celebrate these hard working fathers of the community.
One father is Hugo,* whose health began to deteriorate when he and his partner Luna lost their jobs due to the pandemic. Hugo's anxiety and depression worsened, and when they could not pay the rent, their landlord began to threaten eviction. With assistance from your investment in Nido de Esperanza, Hugo and Luna were able to cover the rent and purchase diapers for their son. With the financial pressure lifted, Hugo was able to seek counseling and his health began to improve.
And Hugo was not the only one. Other folks who were kept afloat by your investment in their lives wrote:
"I was losing sleep, thinking and stressing about my rent. The financial assistance was a blessing that I was not expecting. Blessings to the donors that worried about our well-being and care for others."
"There are no words for the emotional, material and financial support our family has received. There was a time when all seemed impossible. Knowing that others care about us and our children has given me hope."
Thank you for making the joy we see in these photos possible during such a difficult time. We are so grateful for TEAM LOVE, our monthly donors, whose investment in Together Rising makes it possible for us to invest in others.  Thank you for continuing to believe so firmly and fiercely that we belong to each other.
*Names have been changed to protect privacy