Flash flooding in Kentucky and St. Louis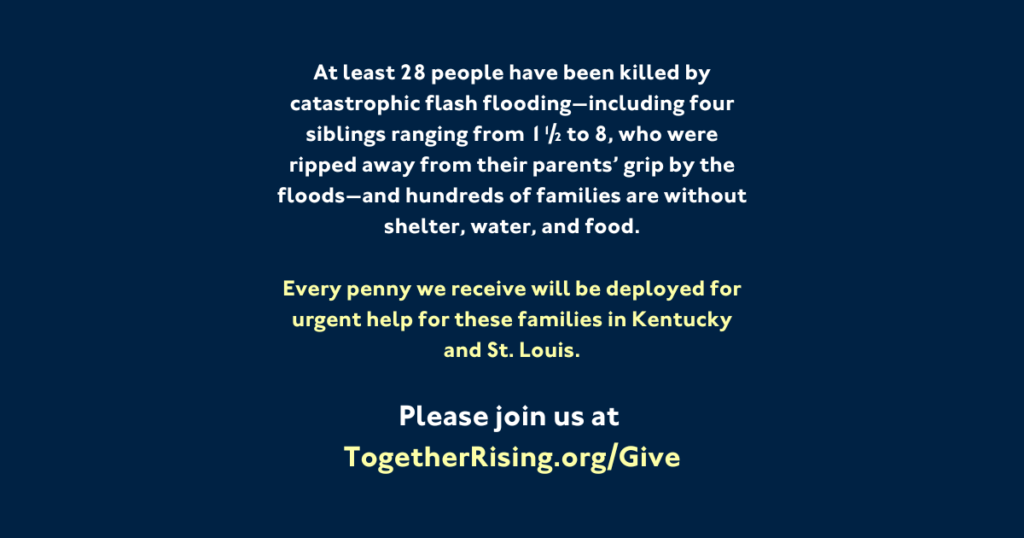 In eastern Kentucky, catastrophic flash flooding has killed at least 26 people, including children, and has left hundreds without homes, water, electricity, internet, and vital necessities.
The deluge has been unrelenting—engulfing entire homes and ripping roads apart, leaving countless people waiting on their roofs desperate for rescue crews to arrive. In Hazard, Kentucky, seven of nine bridges are unusable. With more rain expected, the death toll and the number of families displaced are expected to rise.
Drenched with more rapid rainfall than the area has seen in the last century, the St. Louis metro region has also been devastated by catastrophic flash flooding. At least two people have been killed and countless others have been forced from their homes. A foot of water quickly turned interstates into rivers. In several neighborhoods, the water is so high that families are being rescued from their homes via inflatable boats.
We last stood with families and children in Kentucky and St. Louis six months ago after tornadoes devastated the region.
Please join us in continuing to stand with these families and children by donating at the link in our bio or TogetherRising.org/Give. Every penny we receive will be deployed for urgent help for these families.
We are deeply grateful for the trust you place in us—as always, we will come back to you to report how every single penny was invested in these communities.
You continue to prove that we belong to each other, time after time, no matter where disaster strikes. From all of us here at Together Rising, thank you.