Food baskets for families in Yemen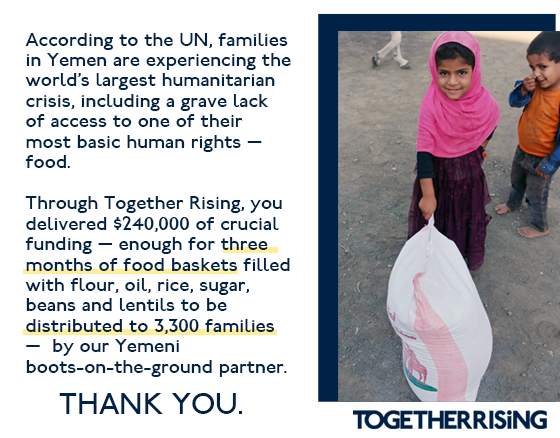 According to the UN, Yemen is experiencing the world's largest humanitarian crisis. The civil war has decimated businesses and factories and closed hospitals and commercial ports — leaving the country without the critical infrastructure needed to function at a basic level, let alone address the world's worst cholera outbreak, flooding, and now COVID. A staggering 24 million Yemenis, 80% of the population, rely on humanitarian aid and 3 million have been displaced.
Families are living in impossible conditions, including a grave lack of access to one of their most basic human rights — food. The UN has warned of the "imminent danger of the worst famine the world has seen for decades." The situation is so dire that the number of children who have died from acute malnutrition cannot be accurately reported, but extrapolation from available data indicates it is in the hundreds of thousands.
For the last two years in which you have expressed your heartbreak over this crisis to us, we have tirelessly searched for a boots-on-the-ground partner to most effectively deploy critical funds.
The Yemen Relief and Reconstruction Foundation (YRRF), is led by Dr. Aisha Jumaan, who is Yemeni herself. Between her and her brother, who lives in Yemen, they personally know everyone with whom YRRF works. Her personal knowledge and love for her home country, as well her extensive professional expertise from having both a MPH and PHD in epidemiology, made it clear we'd found the person and partner best positioned to help. Her team was ready at an especially critical time, sharing that "with the UN and other aid groups reducing aid in the country due to funding gaps — [their] work is becoming more important than ever."
Through Together Rising, you delivered $240,000 of crucial funding so YRRF could distribute three months of food baskets. Because of you, 3,300 families have already received flour, oil, rice, sugar, beans, and lentils — and many more families will be fed this month.
We are committed to showing up — even after the news cycle has moved on — to empower the warriors already doing the work. When many look away, you refuse to. Thank you for not letting the fact that we can't do everything keep us from doing what we can to show up for these families, together.