Free and confidential therapy for frontline healthcare workers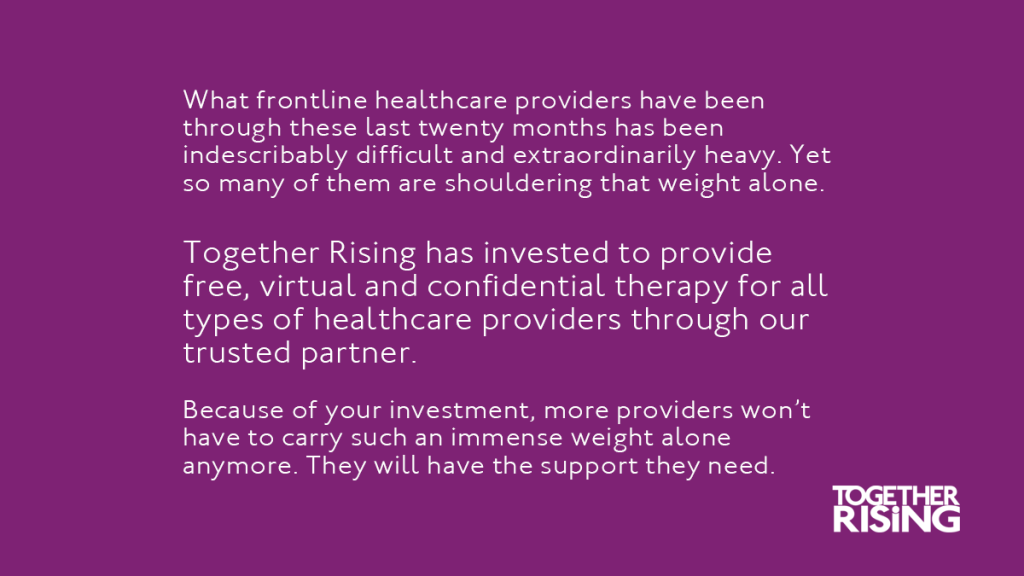 For almost two years, frontline healthcare workers have endured relentless trauma that has impacted their mental health in devastating ways. What they have been through has been indescribably difficult and extraordinarily heavy. Yet so many of them are shouldering that weight alone.
In a survey from Mental Health America, 86% of healthcare providers—more than 8 out of 10—reported experiencing anxiety and 76% reported exhaustion and burnout. More than half expressed difficulty being a present parent for their children. In total, 39% of providers, including 45% of nurses, reported not having enough emotional support.
Why is such a significant number of providers not getting the mental health care they need? In a poll by KFF and The Washington Post, almost 1 in 5 healthcare workers considered getting help but ultimately chose not to. Many providers fear that disclosing a mental health diagnosis and/or treatment will negatively impact their licensure as most state boards can ask and act on the information provided. Being "afraid or embarrassed" was the second most common reason as to why providers opted out. The other most common reasons were all related to the unaffordability and inaccessibility of mental health care.
Our trusted partner, Emotional PPE, helps providers access therapy that tackles these barriers—therapy that is free, virtual, and confidential. They have connected thousands of healthcare providers with therapists in their states, including Krista, a nurse who contracted COVID-19 working on the frontlines. "I didn't realize the toll that being sick would take on my mental health. But I found myself in one of the darkest places I had ever been, emotionally," she recalled. After hearing about Emotional PPE, Krista decided to try therapy for the first time. "[Therapy] saved me, my career, and improved my relationships," she said of the program.
Because of your investment, providers like Krista won't have to carry such an immense weight alone anymore. They will have the support they need.
Your investment is supporting more frontline healthcare providers like Krista. Thank you.