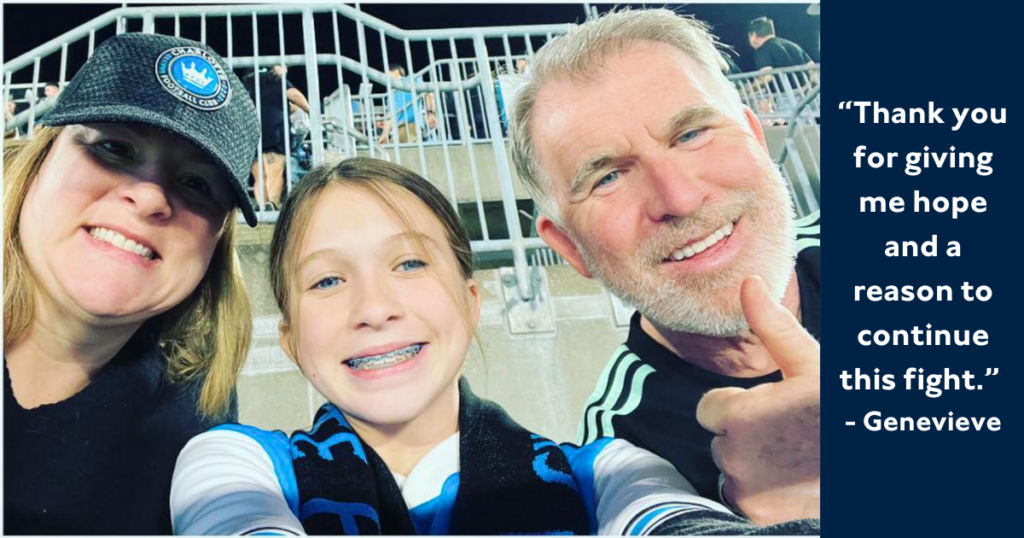 We hear a lot of things when people reach out looking for support. But we had never heard a promise like the one we got from Genevieve.
"I promise if I'm awarded this grant, I will still continue to say to myself 'girl you can do hard things' before I try to lift myself off the toilet or even get out of bed."
Since 2020, Genevieve has indeed been doing hard things. That January, after her thumb stopped working from what she thought were old sports injuries, she received a diagnosis that changed everything. She was given two years to live at most and a sobering reality – she was living with ALS or Lou Gehrig's disease.
"A week or so passed and after tearing up in the aisles of Target or while watching a movie, I finally shared my diagnosis with my husband. We made the decision not to tell anyone until I physically worsened."
In 2021, she shared the news with her parents. And in 2022 Genevieve sat down with her 13-year-old daughter and informed her that there was a strong chance that she would grow up without a mother.
"It is what it is, we try to live every day to its fullest and we keep things as normal as possible until it's not- and then we figure out our new normal."
The latest "new normal" was figuring out how to sleep. Genevieve lost strength in her lower body, and she was relying on her husband to put her to bed every night, carefully moving her arms into position for comfortable sleep. After careful research, they found a bed that would allow Genevieve much more comfort, but the cost was prohibitive.
That's where the Together Rising community stepped in. Thanks to you, Genevieve is sleeping in a new bed. " It allows me a comfortable place to not only cuddle with my daughter and watch TV but also offer up the support so hopefully I can be a little bit more independent even longer. Thank you for giving me hope and a reason to continue this fight."