Hailey Fort: Our 9-Year-Old Activist is On Fire!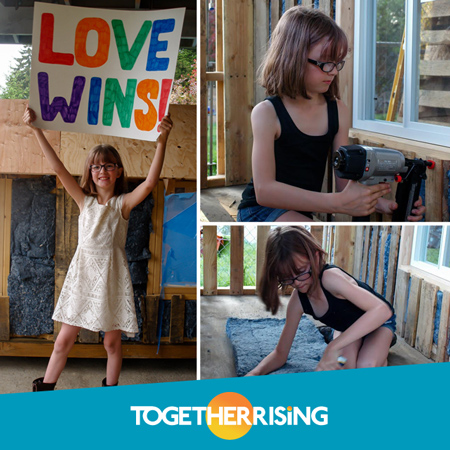 Friends, have you noticed that our Hailey is EVERYWHERE??? NBC KING 5 News, the Huffington Post, Yahoo News & ABC Good Morning America, A Mighty Girl—Our girl is on fire!
For those of you who missed it, Hailey's mom wrote in and told us Hailey's incredible story—how her 9-year-old daughter has been serving the homeless community around her for the last four years, first growing fruits and vegetables to share, then gathering and distributing requested items, and, now—building sturdy shelters where her friends can live. We shared Hailey's story with you during Together Rising's last Love Flash Mob and you rallied to support her, raising $3000 for her to build 10 more shelters. Together Rising then contacted Hailey's local Lowes in Silverdale, WA and the manager agreed to give her 50% off of all of her supplies (thank you, Justin!!)—so our gift of 10 shelters is now 20 shelters!
On the night of the Love Flash Mob, we got this message from Miranda, Hailey's incredible mama:
Dear Wonderful People of Together Rising,
Thank you for today. It was exactly what our family needed. On Tuesday we learned that Hailey's little sister Josie would have to go to New York for some difficult medical tests and appointments. It was hard to find smiles in our house. But today, oh how all the stories of joy and goodness gave us so much hope.
Thank you for all that you do.
Miranda
Friends—we are doing it. We Got Hailey and Miranda Rising. Let us keep working together to light up the world.
Here are links to some of the news stories that have come out about Hailey since the Love Flash Mob:
NBC King 5: 9 year old building small shelters for Bremerton homeless
Yahoo News and ABC Good Morning America: 9-Year-Old Girl Building Personal Homeless Shelters for Her Friends
Huffington Post: Girl Builds Small Shelters For Homeless People Because 'Everyone Should Have A Place To Live'
A Mighty Girl: 9-year-old Hailey Fort builds personal shelters for homeless people because 'Everyone should have a place to live."