Hate Will Not Have The Final Word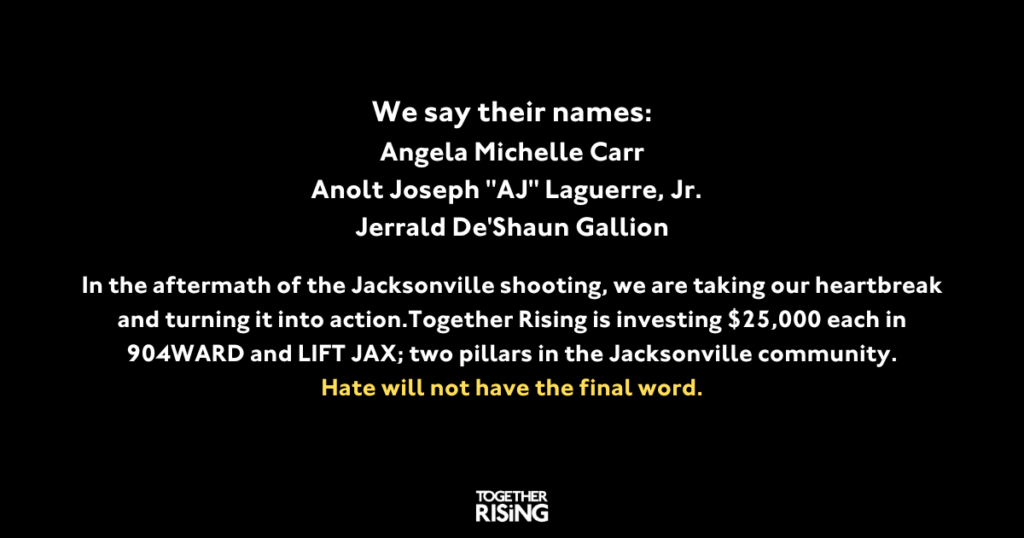 Angela Michelle Carr
Anolt Joseph "AJ" Laguerre, Jr.
Jerrald De'Shaun Gallion
We say the names of the three Black people who were killed in Jacksonville, FL on Saturday in a display of white domestic terrorism.
Anolt Joseph "AJ" Laguerre, Jr. – an employee of the Dollar General store where the shooting occurred – was just 19 years old. AJ was a loving person who "would give [you] the clothes off his back and the food off his plate."
Angela Michelle Carr was a mother of three and grandmother to 16. Her daughter Ashley described her as "an incredible woman. She was fearless and thoughtful, rough yet gentle."
Jerrald Gallion was a devoted father, leaving behind a 4-year-old daughter, Asia. According to Asia's mother, "my baby lost her father, her best friend, her everything."

Their lives were stolen, and the lives of all who knew and loved them were shattered in an instant.
The blatant act of racism that this shooting represented was compounded by the fact that it occurred on the 60th anniversary of the March on Washington where Martin Luther King, Jr. delivered his famous "I Have a Dream" speech. In this speech, he spoke not only of the dream and promise of America, but of the nightmare that many Black Americans face.
On Saturday, that nightmare became a reality for Angela, AJ, and Jerrald.

At Together Rising, we are taking our heartbreak and turning it into action by investing $25,000 each in two pillars in the Jacksonville community, 904WARD and LIFT JAX.

904WARD tackles racism through community-wide activism, dialogue, and education programming. LIFT JAX works to eradicate generational poverty by supporting housing, education, and employment opportunities in the historic Eastside neighborhood of Jacksonville.

In 1965, Dr. King later reminded us, "Our lives begin to end the day we become silent." And while we grieve the loss of three beautiful lives in Jacksonville, we will not be silent. Hate will not have the final word.

In love, solidarity, and relentless hope,
Together Rising