Holiday Hands 2020 Match Day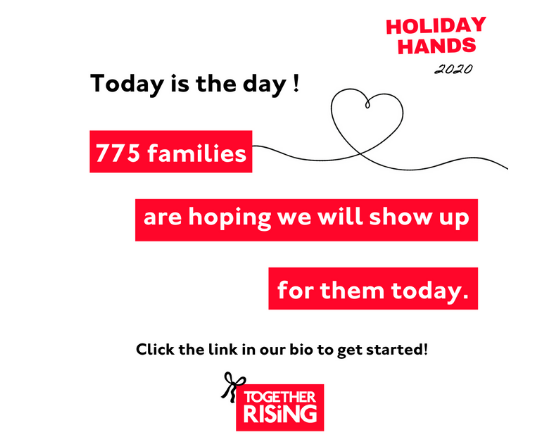 TODAY IS OUR 10th ANNUAL HOLIDAY HANDS MATCH DAY!!!
Today, people release outrageous, lavish, radical love by meeting the holiday needs of total strangers. 
This year has been especially cruel for so many.  Right now, there are 775 people who have submitted needs wondering if someone will show up today to help ease their burden, and make their holidays brighter.   
If you are able to stand with and for these families, please start HERE! 
When you click the link, you will see 775 wishes listed. We are helping more families than ever before!! Once you find a family that you want to support, you can donate all or PART of the amount needed. Just change the number in the donation form to offer whatever support you can provide.
If you are a giver who is not able to join us in family matching, please consider sharing this post and making a one-time or monthly tax-deductible donation to support Together Rising by clicking HERE .We receive and fulfill requests all year long to help fill the needs of families -- and will be fulfilling holiday needs for the rest of the year.  As always, every penny we receive from you will go to people who need it.  
Thank you, thank you, thank you -- to those bold enough to meet needs, those brave enough to list needs, and those  cheering us on  --  for proving that Love Wins and We Belong to Each Other!!   Click HERE to get started!!