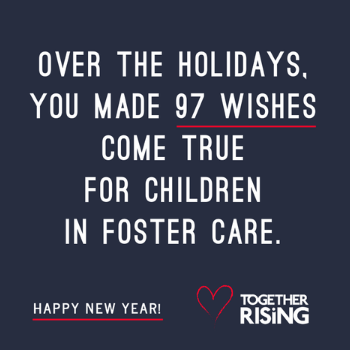 Every year nearly 500,000 children, impacted by abuse, neglect and trauma, spend time in the foster care system. 
This holiday season, through Together Rising, you made 97 wishes come true for children in foster care. The wishes totaled $20,0000 and reached kids all over the US through One Simple Wish:
Here are just 10 wishes you fulfilled! Through Together Rising, you bought:
– A new laptop for Zyana who's starting to apply to colleges;
– An MP3 player for Kara who hopes to be a singer and musician when she grows up;
– A scooter for Xiani who loves being outdoors;
– A Paw Patrol Look Out Tower for Kenai who loves to make people smile;
– A trip to Epcot for Nathanyl who loves science;
– A Doll stroller and high chair for Alli who loves playing with her "babies";
– A ukulele for John who wants to start a band;
– New Legos for Terrance who is looking for a productive outlet;
– New bedding for Beth to spruce up her room; and
– A camera for Justice who loves to express herself through art.
Thank you for sending hope, love, and joy to these kids.
The world is a hard place, and pain abounds. The world is also a beautiful place where love abounds.
No matter what, together — through you and Together Rising — we will keep showing up for this brutiful world.
LOVE,
G & Together Rising