Thank you for standing with families affected by Hurricane Laura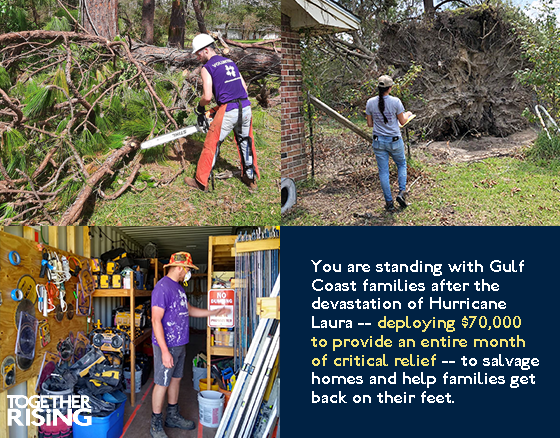 Four weeks ago, Hurricane Laura, the strongest hurricane to hit Louisiana's shore in over 160 years, decimated Cameron and Lake Charles with 150 MPH winds and unrelenting storm surge that engulfed entire buildings and ripped trees from the ground and roofs from homes, then tore through surrounding areas of Louisiana and Southeast Texas and Arkansas, leaving countless communities with an estimated $8.9 billion in damage and at least one million families in absolute devastation.
Anticipating Laura's arrival, Together Rising immediately searched for the helpers. All Hands and Hearts' boots were already on the ground — still helping families rebuild for the last three years in the aftermath of Hurricane Harvey in 2017.    
After Hurricane Laura struck, AHAH immediately addressed families' most urgent needs with vital essentials, setting up two bases to distribute water, food, fuel and more. They then listened intently to community leaders, those most impacted, and fellow organizations to determine their most effective use.  
At Together Rising, we align deeply with AHAH's commitment to remain embedded in communities long after the news cycle has moved on, and to serve with a community-driven response. 
In natural disasters, the gap between short-term relief and long-term recovery is tremendous, and ongoing resources are crucial.
Today, through Together Rising, you deployed $70,000 directly to AHAH so they can continue their vital work helping families rebuild.  Equipped with the staff, transportation, tools, lodging and PPE that your investment provides, AHAH's volunteers will place temporary tarp roofs, remove damaged belongings, chainsaw trees and remediate mold to salvage as many families' homes as possible. 
Thank you TEAM LOVE, our recurring donors, who enable us to act quickly when our siblings are in crisis and to bridge two incredible groups — people like you who want to help and organizations like AHAH whose boots are on the ground, and will remain there because of your love and investment — to ensure these warrior families can recover.