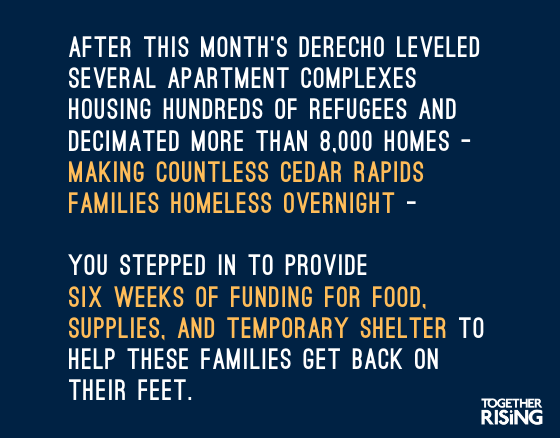 On August 10, a derecho storm with 100 mile per hour winds swept across the Midwest. The damage in Cedar Rapids, Iowa was catastrophic. In that region, the storm destroyed 43 percent of crops and half of the tree canopy, leaving at least 64,000 people without electricity. Tragically, the storm leveled several apartment complexes housing hundreds of refugees, and decimated more than 8,000 homes -- making countless families homeless overnight.
At Together Rising, we immediately began searching for boots-on-the-ground warriors with deep roots serving the families of Cedar Rapids, best equipped to respond urgently to help the most vulnerable families seek shelter.
The Catherine McAuley Center is focused on the most vulnerable. CMC offers the only housing program in Cedar Rapids that serves women facing homelessness in a trauma-informed, female responsive environment. And, for almost 3 decades, CMC has focused on immigrant and refugee community members, helping them become self-sufficient as quickly as possible through safe and affordable housing, and access to medical care and employment opportunities.
Throughout the storm's devastation, CMC has kept their food pantry open; is providing cleaning, school, and hygiene supplies; and quickly converted a vacant building into temporary housing for families without shelter.
Today, through Together Rising, you are making an investment to allow CMC to continue this vital work for six weeks -- to give Cedar Rapids families a chance to get back on their feet.
Thank you to TEAM LOVE, our monthly recurring donors, for making it possible for us to belong to each other -- to act quickly to help our siblings in crisis.
This week Together Rising is watching Hurricane Laura carefully and standing ready to step in for the families who will need support in the coming weeks and months.