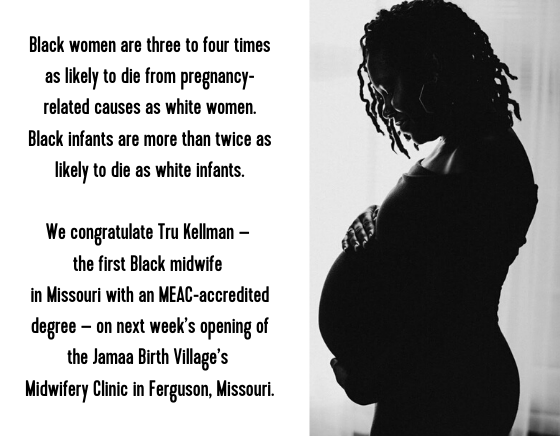 After Brittany "Tru" Kellman endured two traumatic birthing experiences, during which she was dismissed and misled by her doctors, she was determined to empower other Black women to avoid the same experience.
According to the CDC, Black women are three to four times as likely to die from pregnancy-related causes as white women, and Black infants are more than twice as likely to die as white infants. This disparity is due to the compounded stressors of gender and racial discrimination throughout Black women's lives and in the lack of care they are provided during pregnancy and birth.
Systemic racism in health care leads to the dismissal of Black women's questions, concerns, and pain. Cesarean sections are 40 percent more likely among Black women than white women. And a recent study found that white medical students and residents often had patently incorrect, dangerous medical beliefs about Black patients, including that Black people have thicker skin, less sensitive nerve endings, or quicker-coagulating blood than white people.
These are devastating realities for Black families.
When Tru learned that women who receive support from doulas and midwives experience greatly improved outcomes in their health and the health of their babies, she was determined to bring these invaluable services to her community.
Tru studied traditional midwifery in Ghana and attended the Midwives College of Utah, becoming the first Black midwife in Missouri with an MEAC-accredited degree.
In 2015, she founded the
Jamaa Birth Village
. Jamaa—Swahili for family—has worked with more than 350 families in providing perinatal care.
In 2018, Together Rising was honored to invest $135,000 in Tru and Jamaa toward the new Midwifery Clinic. And, after years of tireless work, Tru will open the new Midwifery Clinic next week! It will be the region's first equal access midwifery clinic where women will be able to receive services regardless of their income.
We thank you for investing in Tru and Jamaa Birth Village, and we invite you to follow, with us, the life-changing work they will do with the new Midwifery Clinic in Ferguson, Missouri.
Photo credit: Plus Photos, LLC. & Jamaa Birth Village