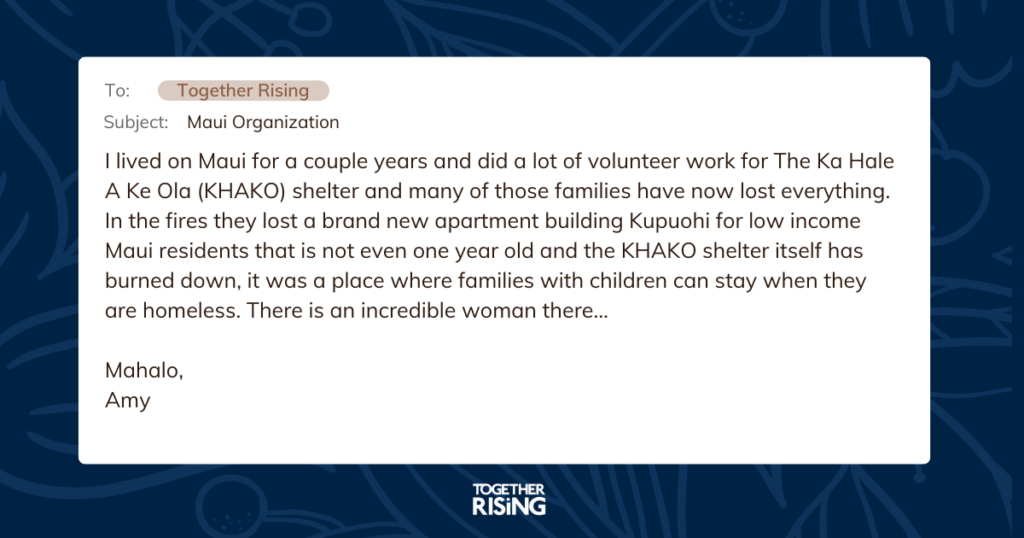 When we say we do this work TOGETHER, we really mean it.
Story time. On August 9, we put out our first announcement that Together Rising would be responding to the wildfire crisis in Maui and were actively looking for organizations to come alongside and support. We heard from many of you that not only were you planning to donate, but that you had ideas of where we should put our efforts as well.
One of you reached out directly to our team recommending a boots-on-the-ground organization you had experience with and loved. Ka Hale A Ke Ola (KHAKO) is a woman-led organization whose 78-unit shelter in Lahaina was housing over 140 people prior to the crisis, including individuals and families. KHAKO was not on our radar yet, but once we learned more about how it was responding to urgent needs in Maui – despite the impact that the fire had on the organization itself – we knew we had to support them. Through YOUR generosity, last week, we allocated $146,470.98 in rapid relief funding to support KHAKO's efforts.
We built our entire organization on this idea.
WE ARE BETTER TOGETHER.
And we love when you show us that it's true.