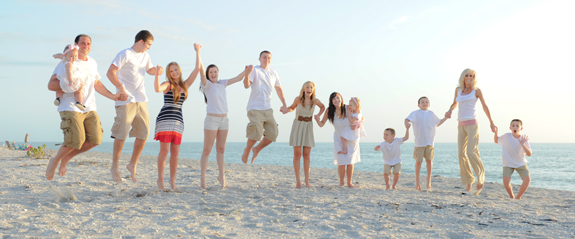 On February 9, 2012, the Monkees held our first official Love Flash Mob, raising money to send a well-loved mama with cancer, Kristin Croyle, on vacation with her beautiful family.  The outpouring of love blew. us. away.  Giving only in increments of $5, $10, and $25, Monkees raised over $25,000 in 10 hours.
You can read about Kairos for Croyles here.
Read about the outrageous Monkee response here.
Read  the follow up story here.
A message from friend Debby  Rhea after the Flash Mob:  
I never, in a million years, expected such a huge response — such a tremendous outpouring of love connecting thousands of strangers together for one common purpose – to love and pray for and provide for Kristin and her family.
And I don't know how to thank you. I really and truly don't. Not just for today's miraculous result, but for blessing me in the process. For helping me be a part of achieving big things, giving me TRUE hope for Kristin, and restoring my faith in humanity, which has sucked lately. A LOT.  …
I know in my heart that the gift of lifelong memories for the oldest ones and pictures for the littlest ones to reflect upon are worth every.single.cent. Priceless!
Excerpts from notes from Kristin after the family's vacation to Florida:
To all my glorious givers of love and prayers,
This vacation was so special to me.  Captiva was beautiful!   My 4-year old said he loved it more than peanut butter sandwiches.  The weather was perfect… the travel was really good… the kids did well.
The beach was absolutely beautiful.  The seashells were in abundance.  We found a lot of cool ones…
On a gorgeous day,  Kylee, Chiarina, and I ate at the Blue Giraffe.  Kylee was in heaven.  She loves giraffes… Lance took the boys for a walk and got cookies one day while I soaked up some sun….  We went out for sushi one night and had such a wonderful time.
I love Tammy (the photographer) and am so grateful for her time with our family and being brought together by this experience.
Everyday was a special day.  Memories of one awesome trip… priceless!  I just can not thank all of you enough.  God is one awesome man.  And we can do hard things.
Mostly,  I am so thankful for all your prayers and emotional support. It is such a blessing to know so many people are so loving.  I'm so grateful that God brought you guys into my life. This is what helps me keep positive, being sick has brought so many amazing people in my life.
Sending love with lots of smiles.
Thank you for all your blessings, Kristin
In August 2012, Glennon shared the following report:
The night of August 12 our Monkee Kristin Croyle was gathered to her people. Please pray for her people still here, grieving and waiting to one day be gathered back to her. It's All Kairos now, Kristin. Godspeed.
G and TWMF (The Whole Monkee Family)
Here are some additional notes from Kristin's friends & family:
"Kristin's Aunt Louann ministered to friends and family gathered to celebrate Kristin's life not to feel forsaken because there was no miracle, but to remember all of the miracles along the path that led us from the December diagnosis to the here and now. And one of those miracles, which brought tears and aahs was – of course – the Love Flash Mob."  Debby Rhea
"Thanks to all of the Monkees, the Croyle family was able to take their first vacation together ever. All of the beautiful photos that were captured will hold a lifetime of memories for the family. Thank you. We love you Kristin…..Love to you all."  Kelly Croyle Miller (Kristin's sister-in-law)