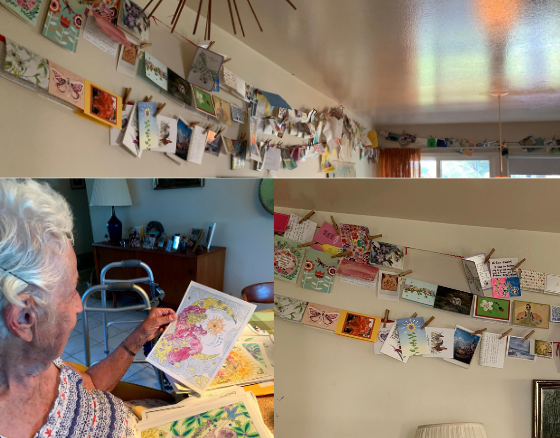 Last summer, Eva-Marie's caretaker Nicole wrote to us about how isolating and lonely this time of COVID-19 has been for Eva-Marie:
"Eva-Maria came to the US from Germany. For all of these years she has kept in touch with friends and family using letters. Now, at 91, most of her friends and family are no longer here and although she checks the mailbox every day, it is rare to find a letter. She has some dementia so she often reads again and again any letters - getting many moments of joy from a single one! It'd be amazing if anyone has time to send her a note, a drawing, or just a pretty card that you have."
So, this summer we asked you to send notes to Eva-Marie and two other amazing women who are isolated from their families and friends because of COVID-19.
You sent Eva-Marie HUNDREDS AND HUNDREDS of letters, cards, and your babies' drawings!
Nicole told us that you warmed Eva-Marie's heart and made her realize she was not alone. Your mail to Eva-Marie meant so much to her that she decorated her room with your love!
What we love about this community is that through the hardest times -- the times when we feel invisible, alone, unseen -- we show up for each other, we SEE each other, we rise together.
Thank you for showing up for Eva-Marie. Thank you for showing up for each other. Let's keep doing this together, forever.
Eva-Marie has now closed her P.O. box, but others would love to hear from you. To connect and send more love to others needing encouragement, please check out our Together Letters program, please click
https://bit.ly/2HLcrzG
and use the "Contact ____" link to request addresses for each person.