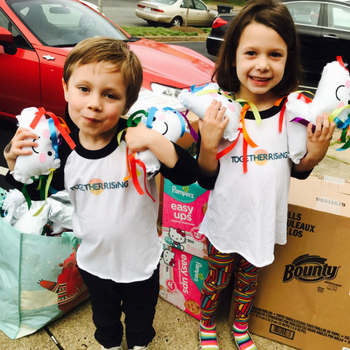 This is Olivia and Bobby — the little but fierce love warriors who recently delivered a WHOLE LOT OF LOVE FROM YOU to Second Story, a shelter for homeless women and families in their town.
Olivia and Bobby brought with them (in addition to their mamas) these love offerings, which you provided through your one-time and monthly donations to Together Rising:
24 rolls of paper towels,
80 rolls of toilet paper,
9 boxes of diapers,
4 containers of laundry detergent,
10 SmartTrip metro cards preloaded with $50 each, and
HUNDREDS of cuddly pillows handmade by YOUR CHILDREN for these babies through the Little Loving Hands project.
These gifts were in addition to the $50,000 you gave last year to Second Story through Together Rising. Second Story (formerly known as The Alternative House), provides support to at-risk children, youth, and their families through counseling, shelter, crisis intervention and outreach, in Falls Church, Virginia.
Your first $25,000 donation to Second Story housed three young women and their children in one of the Assisting Young Mothers townhouses. Your second $25,000 donation provided therapeutic services to six young mothers for a full year. This includes enabling each young mother to attend a weekly counseling session with a qualified mental health professional to try to overcome the trauma of her past, and help give her children a better future.

A few days after Olivia and Bobby's visit, you received this note from Second Story's Executive Director:
"Your contribution makes a tremendous difference in the lives of some of the most vulnerable young people in our area. It makes a difference in the lives of young people like Mackenzie.
Mackenzie was kicked out of her family home because her mother did not approve of her behavior. Mackenzie found herself homeless with nowhere to go, so she began sleeping at her workplace at night while still getting herself to high school during the day. She struggled with learning when her life was so unstable, and she made the decision to drop out of high school. Then Mackenzie found Second Story and joined the Homeless Youth Initiative. We helped her move into a safe home and staff helped her re-enroll in high school. We are now working with her to find employment close to home, addressing her ongoing health issues, and ensuring that her special education needs are being met at her new school.
It would not be possible to provide these services to the community without your support. Your contribution helps every young person who walks through our doors. You are greatly appreciated by all of us. Thank you so much for your support of Second Story, on behalf of the Board, staff, volunteers and, most of all, on behalf of the young people we serve."
Thank you for your trust in Together Rising, for your kids' beautiful work on the pillows they made for friends they may never meet, for your investment in these mamas, and for the gift of doing this work with you.
LOVE,
Olivia, Bobby & Together Rising
If you'd like to donate to the healing, uplifting work of Together Rising, please go to: https://togetherrising.org/give/.