Look at Our Ellie – Update!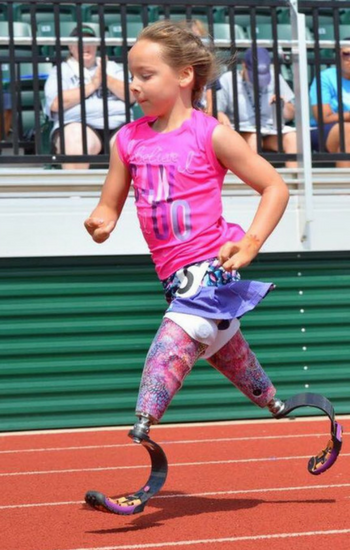 LOOK AT OUR ELLIE.
Two years ago, Miranda wrote to Together Rising about her warrior daughter, Ellie. Ellie had been in seven different foster homes before Miranda was lucky enough to adopt her as her own. Miranda told us that her girl had a genetic disorder that caused her legs to be amputated to her knees and her hands to look different, too:
"Ellie is healing on the outside and the inside. We are healing together—and she inspires me to carry on every day. She is my warrior baby. My wildest dream for Ellie is new legs. Ellie loves to run. All Ellie wants to do is run, but she is constantly left behind. I don't want my warrior baby left behind. The legs are incredibly expensive, though, so it's just out of the question. I can't give my baby what she needs the most," her letter said.
We told you Ellie's story. You contributed $260,000 in 24 hours during the Sheroes Love Flash Mob. $18,000 went to buy Ellie the legs she needed to RUN. (The rest of the donations went to serve 175 more Sheroes.)
We've kept in touch with Ellie's mom over the years, checking on our girl, amazed by her continued courage and joy. Yesterday we got an Ellie update so beautiful that we knew we needed to share it with you.
Here's our girl. RACING. Like the wind.
Yesterday, Miranda posted: "Two years ago you guys bought these running blades for Ellie. They are now on their third set of sockets (the part her leg goes into that gets outgrown) and she is still going strong on them. She used them this weekend at the Endeavor Games."
Thank you for making Ellie's dream come true. Her mama got to sit in the stands and watch her little girl run like the wind. You did that.
"Never Doubt That A Small Group Of Thoughtful, Concerned Citizens Can Change World. Indeed It Is The Only Thing That Ever Has." – Margaret Mead
How about we keep loving the helloutta this world together?
If you'd like to donate to the healing, uplifting work of Together Rising, please go to: https://togetherrising.org/give/.