Love Serves. Thank You for this Love Story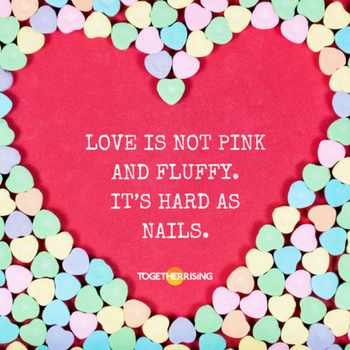 REAL love is not pink and fluffy and rose-y and butterflies. Real love is not shiny and whole and smiling serenely. Real love is not holding hands while running through fields of sunflowers or gazing over chardonnay while wearing sexy dresses and opening boxes of diamonds. It's just not. That stuff is something else. That stuff is something that can be packaged and sold, which is why we see a lot of it this time of year.
Real love is tough as nails. Real love is busted up and scuffed and a little jagged and exhausted. Real love is losing your temper seven times and apologizing eight times. Real love is overwhelmed and exhausted and just DONE at the end of each day. Real love is ADHD and how are we going to make rent and hurt feelings and sucky report cards and cancer and Listen, babies– this is life, this is brutiful life — and there is still much beauty to be found. Let's find it together. Real love is knowing that tears of exhaustion are not signs that you're on the wrong track — tears of exhaustion are confirmation that you are pouring out every bit of your heart and soul and body and mind and energy in service to your people. And that means, perhaps, that you are on the right track. That you are living out a mission worthy of you. Tears of exhaustion are often a badge of honor.
Real love is a father who has served our country in the Air Force and is now battling an impossible prognosis — and a mother shouldering the sole burden of supporting her family and trying to create normalcy for her kids since his diagnosis.  Real love is a grandma who spent her life serving suffering people as a nurse — a woman who isn't afraid of dying, but worries most about making sure her family is okay after her passing.
On this Valentine's Day, we want to tell you a  love story.  This love story is about warriors who spent their lives serving folks who could never pay them back — warriors who are now desperate to provide for the families they will leave behind, and to have peace during their precious time together.  This is a story about how you stepped up to serve these warriors — because love is showing up in the hard, and carrying it together.
Meet April and her husband Nathan.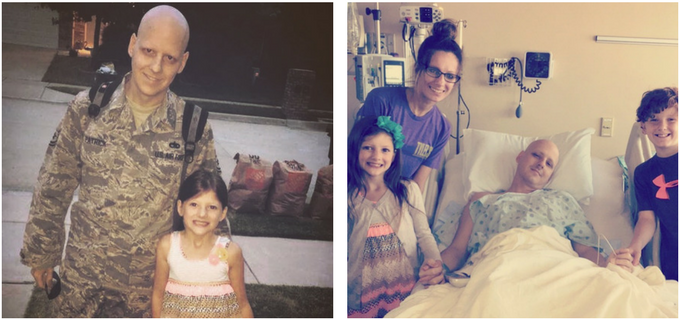 This past year, 31-year-old Nathan lost his father to cancer right before he was diagnosed with a cancer so rare it left his doctors with no standard protocol for treatment. He was told there was 0% cure rate and that the average length of survival is 16 months. Nathan has undergone over 722 hours of inpatient chemo and surgery to remove some of the tumors. April and Nathan have tried to retain normalcy for the kids' sake. April is a pharmacy tech at a local CVS, but between hospital stays and appointments, she is unable to work much. Nathan served our country as a proud Airman of the United States Air Force for 13 years, and had to retire January 31st because of the cancer. Nathan is worried about how he will support his family.
April told us that she and Nathan have a small mound of debt to pay off, and their floors are so old it is making it difficult for Nathan to safely maneuver around their apartment.  But every time she'd save a tiny bit of money to meet one of these goals, she had the nagging realization that they needed to enjoy this precious time with Nathan while he is still able and strong.
They have never had a real family vacation and that window is dwindling.  It was their dream to take their kids to Disney World.  A generous local fundraiser was done raising some of the funds, but they still needed more to make their dream come a reality.
You stepped in and decided that this should not be an EITHER/OR.  This is AND/BOTH.  You took care of the nagging debt to give April peace of mind that their family would not be burdened, you fixed their floors, AND you gave to fully fund their Disney vacation.
Meet Kris.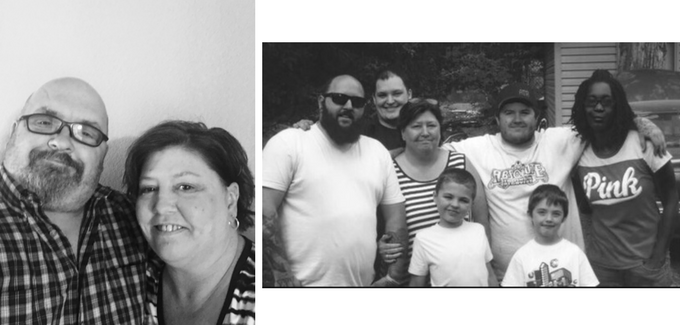 Kris was diagnosed with breast cancer 10 years ago, and this summer, she got the news that she now has metastatic breast cancer in her bones. She has completed radiation, but still faces a terminal diagnosis. Kris worked as a registered nurse, spending her life serving others.
This family has suffered so much – their youngest son Cooper passed away in 2010 suddenly to an undiagnosed heart issue at the age of 13, and their precious grandson Bennett recently had surgery for a large hole in his heart.  Kris wrote to us that "I am not afraid of death but I HATE what they have to go through. It's too much. So that brings us to here. I am unable to work. We moved in to a rental home with our now youngest son and grandson to help make ends meet, splitting the rent and even with that we are barely making it on one income.  My husband badly needs knee surgery but has resisted getting it because he knows that if he misses work – we have no income at all. I feel like I'm whining but if you knew this guy that I have been married to for 32 years and raised 5 awesome kids with and 3 foster kids and now love on 3 beautiful grandchildren with, you would understand. He would walk through fire for us. And he works a super physical job in a steel mill. And he doesn't complain about it, he worries about me.  I come from a wonderful family that believes in pulling yourself up by your own boot straps, but what does one do when they are completely out of boot straps?"
Kris wants to make sure her family is taken care of. She wants her husband to have knee surgery to ensure his ability to retain his own job.  Insurance would cover the knee surgery, but the family could not survive the loss of income for a few weeks of his recovery.  So, you gave this family the breathing room they needed so that Kris's husband could have his knee surgery.  And you didn't stop there.  You paid the family's rent for a year so that they can focus on catching up with their bills, and you paid Kris's high health insurance deductible for the year so that she stopped resisting treatment due to fear it would set them behind financially.  You gave Kris peace of mind that her family is being taken care of, so that she could continue to fight cancer. You allowed this woman to serve her family the way she has always done. Together Rising.
Love is the boss of us. We are our brothers and sisters keepers. Thank you for being love and light to the world. It is our honor to serve this brutiful world alongside you.
If you'd like to donate to the healing, uplifting work of Together Rising, please go to: https://togetherrising.org/give/.