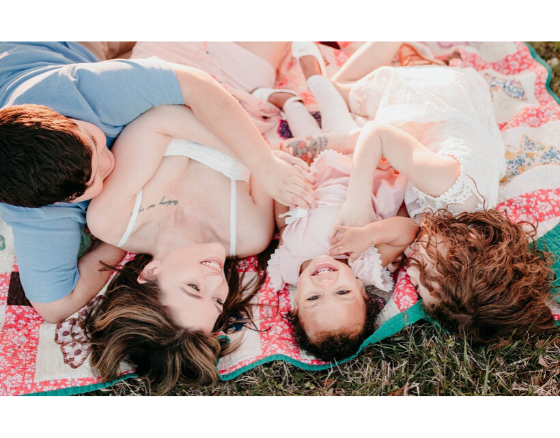 Meet warrior Heather – a single mama to three beautiful children. Four and a half years ago, Heather did the hard and painful work to get sober from heroin and meth addiction and has been clean since.
When Heather shared her rock bottom story with us, she said, "Five years ago, I was homeless and absolutely hopeless on the streets with my children."
Today, Heather is a full-time student pursuing her lifelong dream of becoming a midwife. She and her children recently moved into a house for the first time.
Heather said, "It's my children's first yard that's their own. We are going to fill this house up with love and laughter."
But they didn't have furniture, so Heather's daughters were sleeping in her bed with her, while her son slept on the couch.
You stepped in to help make Heather's new house a home. You sent new beds and cozy sheets for the kids.
You said to Heather:  We see you and the hard things you are doing to give yourself and your babies the dream you had when life was so, so different just five years ago. As you rise, we rise. We are honored to stand with you.
Your recurring monthly donations (of $5 and up) to Together Rising make it possible for us to fill requests every day like this one for Heather and her babies. Thank you.
For one-time or monthly donation, please go to togetherrising.org/give.