Medical Help & Food at the Border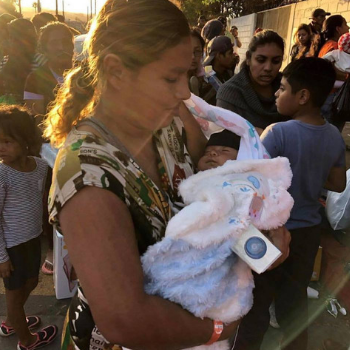 Thousands of families, women, children and men, who have walked hundreds of miles fleeing in-country violence and persecution, are now at the southern border of the U.S. prepared to do the difficult work of presenting their petitions for legal asylum.
The shelters in Tijuana are overflowing, rain has caused much of the area to be completely flooded, destroying what little is left of the families' possessions. Families who have walked hundreds of miles are in desperate need of accommodations, warm clothing, food, water and hygiene supplies. It is unclear when the massive delays in reviewing asylum applications will be addressed – so the squalid conditions persist.
Last week, after U.S. Border officials fired tear gas across the border, many migrants – including children — were in urgent need of medical aid. Through Together Rising, you provided $25,000 in emergency medical support and food for families waiting to make their asylum petitions.
You are giving this medical help and food through Border Angels – a group assisting with food, shelter and medicine. They also form human chains around migrant families sleeping in the streets to protect them from violent anti-immigration protestors – so the families (who have been walking for weeks) can allow their children to rest without violence. BORDER ANGELS are stepping in to protect the most vulnerable – and you are stepping in to make their work possible. Thank you.