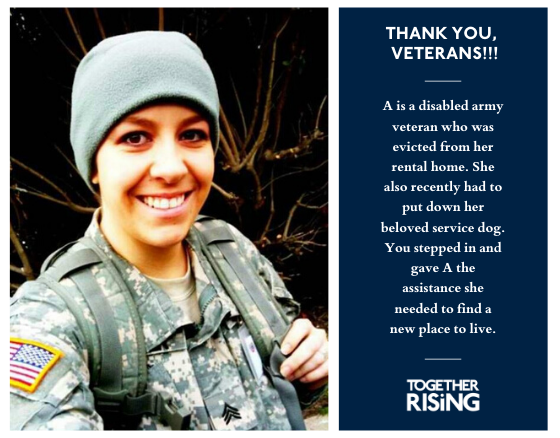 Meet A!
A is a disabled Army veteran who, upon her return from service, was evicted from her rental home after the owner foreclosed on it. A didn't know about the foreclosure until she was abruptly told she had to leave.
She had also recently had to put down her beloved service dog, on whom she relied for assistance and companionship. You stepped in during this devastating and destabilizing time and gave A the assistance she needed to find a new place to live so that she could move forward with safety and stability.
Your investment of $20,000 the Kline Veterans Fund has made a significant impact in the lives of more than fifty veterans like A, helping them find housing, buy food, pay bills, make vital repairs to their homes, and get counseling and other services.
Kline reports that, after an initial investment, less than three percent of the veterans need additional help, which means that your investment is making a significant, long-term difference in these heroes' lives.
Thank you to TEAM LOVE, Together Rising's recurring donors who make our investment in people like A possible.
And THANK YOU to A, and to all of our Veterans!