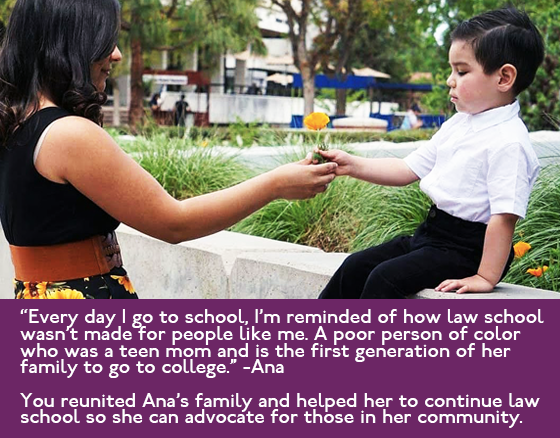 A guiding principle of Together Rising is that "As she rises, we rise" — and no story shows that truth better than this story of Ana.  
The first generation of her family to go to college and a teen mom, Ana had the audacious dream of becoming a lawyer in order to empower people in her small farming community with a Spanish-speaking advocate.  
She was in her second year of law school, living with her partner and their toddler, Liam when COVID hit. 
Liam's daycare quickly closed, leaving Ana without the childcare that enabled her to attend classes. Unable to afford alternate care for Liam, she made the difficult decision to move back home early — but neither her parents' house nor her partner's parents' house had enough room for all three of them. 
Her young family had to be separated. 
Ana and Liam moved in with her parents. Doing so provided immediate relief, but now her parents were stretching their limited income to ensure everyone in their four-generation, eleven-member household had enough to eat. On top of that, she needed a desk, as well as a root canal she'd waited over a year for, and Liam needed glasses — none of which they could afford.
Despite every obstacle, Ana kept showing up — for Liam, her partner, her parents, her family, her career and herself — all while juggling motherhood and separation and law school and work. 
Through Together Rising, you showed up for Ana in a big way. You provided the glasses, a long-deferred root canal, a desk, grocery cards, and assistance with rent and childcare.  
Best of all, you made it so her young family could be together again — and will continue to be until Ana graduates and returns home to the advocate position and community that are waiting for her hard-fought expertise.  
Together Rising is honored to invest in Ana's future so she can invest in so many others' futures. We cannot wait to see how she'll lift up families, just as you've lifted her. In a year in which we've had to stay distant, thank you for continuing to hold each other close.