Meet Charles, Teresa, and their beautiful family!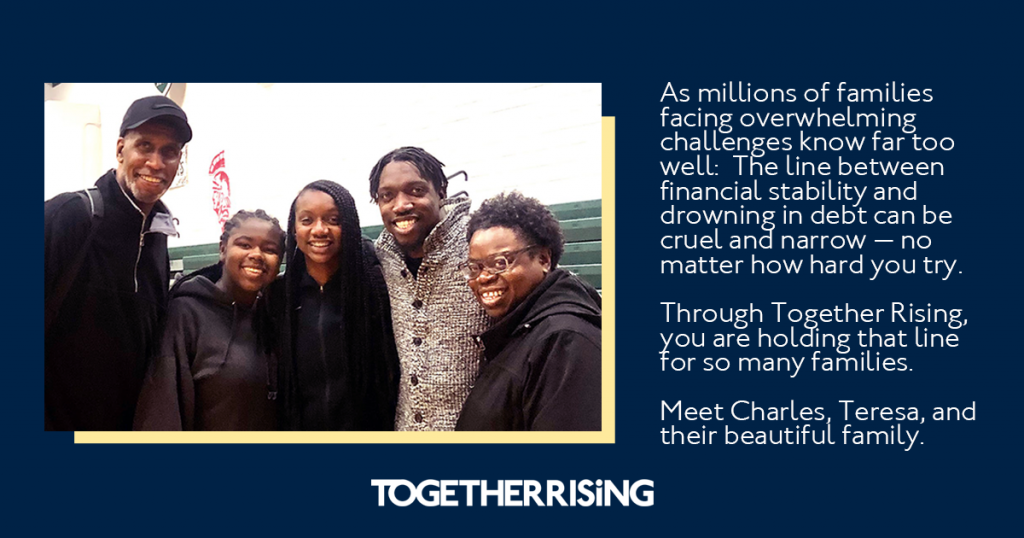 As millions of families facing overwhelming challenges know far too well right now: The line between financial stability and drowning in debt can be cruel and narrow — crossed quickly no matter how hard you try.  You, through Together Rising, are holding that line and restoring stability for families across the nation. 
Meet Charles, Teresa, and their beautiful family. Two years ago, Charles began experiencing cardiac issues as a result of Marfan syndrome, a genetic connective tissue disorder. Doctors recommended that he take time off, but with medical bills quickly depleting their savings, Charles felt he couldn't afford to take the break his body needed. To help make ends meet, Teresa switched from part-time to full-time at her job. 
Months later, Charles's condition worsened when he suffered an aortic dissection, a life-threatening complication of the disorder. He could no longer work. They did everything they could to stay afloat on Teresa's income alone — even moving to a more affordable house. Still, they couldn't catch up. 
Teresa wrote to us to share how overwhelmed she was by the car, utility, and health insurance payments they'd fallen behind on, by the new pressure of being their family's sole income earner, by how they'd gone from "stable to devastated in two years."
Through Together Rising, you provided funding for Charles and Teresa to pay their outstanding debts, and to cover three months of rent — restoring their stability and giving them the breathing room to focus on Charles's health. 
A tremendous thank you to TEAM LOVE, our incredible monthly and recurring donors, whose continuous financial support enables us to provide assistance to families like Charles and Teresa's.