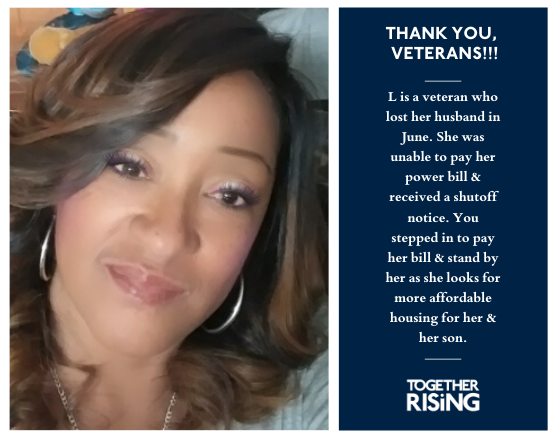 This week, we are highlighting stories of some of the amazing veterans your donations have lifted up through Together Rising's work with Kline Veterans Fund providing support to homeless and at risk veterans and their families in Nevada.
Meet veteran L. L lost her husband in June, and she and her twelve-year-old son have been struggling. She was not able to pay her power bill and received a shutoff notice. You stepped in to pay her bill and will continue to stand by her as she looks for more affordable housing for her and her son.
Your investment has made a significant impact in the lives of more than fifty veterans like L, helping them find housing, buy food, pay bills, make vital repairs to their homes, and get counseling and other services.
Thank you to our courageous, persevering Veterans, it's an honor to stand with and for you!
And thank you to TEAM LOVE, Together Rising's recurring donors, for making this giving possible!